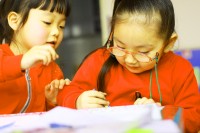 Recognizing March as National Save Your Vision Month
Kids live in a visual world. Nearly 80 percent of what they learn through age 12 is visual, and kids need more than 15 visual skills to succeed in reading, learning, playing sports and everyday situations.
The American Optometric Association recommends that children receive their first eye exam by age 1, the next one at 3 years old and another before starting kindergarten. After that, students should have a yearly comprehensive eye exam to evaluate their total vision—not just a screening to check their ability to see.
The most common vision problems in children and teens are refractive errors, such as nearsightedness, farsightedness or astigmatism. Eye doctors prescribe frequently prescription eyeglasses or contact lenses to correct these issues.
Some kids struggle with the idea of wearing eyeglasses. Here are some tips to make the transition easier:
Explain the need – Help kids understand why and when they need to wear glasses; the eye doctor should explain whether glasses are needed for reading and homework, or to see at a distance
Allow choice – Often kids are concerned that they'll look strange wearing glasses; letting them choose their eyeglass frame will help them accept their new look
Safety first – Choose eyeglass lenses made of impact-resistant polycarbonate, which doesn't shatter when broken; prescription sports goggles may be helpful for kids participating in sports activities
Be positive – Kids wearing glasses for the first time may be afraid other kids will tease them; instead of focusing on the negatives, point out peers and celebrities who wear eyeglasses; reinforce how glasses enhance your child's appearance
Avoid nagging – As kids are getting dressed for the day, encourage them to use their eyeglasses; don't nag if they forget, but gently remind them to wear them as the eye doctor instructed; make sure teachers know when kids should be wearing their eyeglasses
Focus on fit – Kids may avoid wearing their eyeglasses if they pinch behind the ears or slide down their nose; make regular visits to the eye doctor to make fit adjustments
Are Contact Lenses an Option?
Contact lenses may be an acceptable option for correcting kids' vision. Assess whether your child will take care of their contact lenses, including daily cleaning and proper storage. For kids engaged in sports, contact lenses provide better peripheral and overall vision. According to All About Vision, kids prefer wearing contacts to eyeglasses, and they feel better about their appearance and perform better in activities. Ask your eye doctor if contact lenses are a good option for your child.
Read more about eyeglasses and contact lenses for kids:
10 Tips for Buying Kids' Eyewear
Need help with business planning products?
From comprehensive business planning to employee benefits, we can help create a financial strategy that's best for your business.
Want the latest & greatest from our health blog
straight to your inbox?
Subscribe today for a periodic email with our latest posts.