Ameritas Sponsors UNL Experiential Learning Class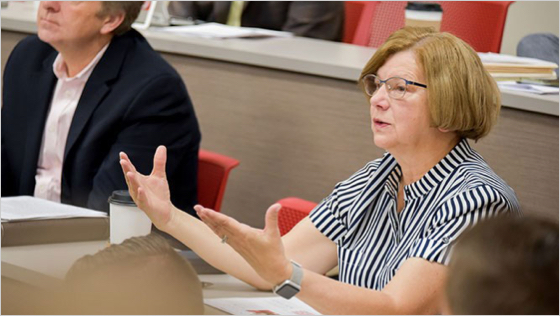 University of Nebraska-Lincoln (UNL) and Ameritas recently collaborated on an experiential learning course, allowing business students to work as consultants. Ameritas Marketing Class (MRKT 490) engaged students in real-world projects. Is this the future of learning? Corporate meets college, and the benefits are priceless.
Throughout the semester, students examined specific business projects identified by Ameritas and presented research-based solutions to its senior leadership.
Maya Mercer, a junior marketing major from Nebraska City, pitched the idea of a toothbrush that tracks data from brushing sessions that could help Ameritas increase revenue from its dental insurance business. Ameritas leadership sees the potential use for Mercer's toothbrush and are advancing her ideas to a testing phase.
"I spent time informing Maya's team of the well-being efforts at Ameritas," said Brent Korte, Ameritas senior vice president, chief marketing officer. "From there, the team really moved the effort forward to find, discuss and engage in a conversation around the digital and tech-enabled toothbrush."
Korte said he was impressed with students' research and how quickly they adopted new concepts to increase their understanding.
Mercer described Korte's feedback as thorough. "Every little thing we did, he would tell us what we could improve and how we did. It was cool to see that perspective because you don't always get a business-world perspective when it comes to academics. Whenever we had an idea, we shared it with him, and he would tell us what direction to take it to make it actually work. He just kept pushing us through and gave us advice on how to make our projects as good as they could be."
Hands-on learning experiences like the Ameritas Marketing Class give students a competitive edge as they enter the workforce. Data from the Pew Research Center indicates the employment rate for recent college graduates remains high but that it's harder to find good jobs. That leaves many graduates facing underemployment.
Kelsea Brunner, a junior from Lincoln, also participated in the Ameritas Marketing Class and later became a marketing intern for Ameritas. Brunner stated, "The executives guiding the class did an excellent job translating a business environment to the classroom in a way I haven't otherwise experienced in college. What persuaded me to enter the insurance space is the burgeoning opportunity for innovation; the class was a great workshop to explore those ideas. Building innovation opportunities from the ground up using frameworks I wouldn't have otherwise seen in classes was an ideal learning experience. It was exciting and challenging to present to senior-level executives, and I was so impressed by their meaningful, constructive feedback and guidance."
Through the partnership, UNL offers students the opportunity to learn business hands-on. Students can achieve valuable experience they can use in their future job search. And Ameritas receives fresh perspectives on issues they face while getting one-on-one interaction with, and ideas from, prospective employees.
"Partnering with companies like Ameritas in our Nebraska business courses benefits both the college and the company," said Kathy Farrell, James Jr. and Susan Stuart endowed dean at the College of Business at the University of Nebraska-Lincoln. "Ameritas provides students with hands-on opportunities to analyze a company and find solutions to real-world problems. The partnership enables our students to further develop their strengths, use their critical thinking skills and expand their creativity. Then the company gets to hear the fresh perspectives and ideas from our students who are about to enter the job market."