Like many companies, Ameritas had a successful 2021 and cause for cautious optimism under normal circumstances. But our world feels anything but normal. The pandemic, now much less a part of our daily lives, remains a painful memory and a continued concern. A war raging in Europe – something most of us have not seen during our lifetimes – has been a shocking wakeup call for many. Rampant inflation, the threat of recession, shortages of goods, services and the workers who provide them. These and other serious developments cloud the future and threaten everyone's prosperity. Still, at heart we're an optimistic people looking forward to continued progress. Every challenge is also an opportunity. We live that philosophy each day, excited by new ideas and supported by exceptional financial strength. Ameritas continues to move forward, building new products and investing in advanced digital tools to fuel a fast-growing network of independent financial professionals. We acquired BlueStar Retirement Services, Inc. and leveraged our 2020 acquisition of the licensed third-party administrator Dental Select. We turned the remote work experience recently shared by so many into a new flexible workplace strategy. And we continued fulfilling lives by focusing on well-being, pursuing inclusion and celebrating diversity, knowing our differences will make us stronger. These are the fundamentals that support robust momentum:
Being an independent, mutual-based organization gives us the freedom to focus on the bigger picture and make the best decisions for our policyholders and members.
An exceptionally strong capital base provides a deep foundation that lets us continue keeping our promises and controlling our destiny.
Our diversified business model features well-balanced investments and sales, spread across multiple product lines. This mitigates risk in volatile markets.
Ameritas is honored to provide insurance, employee benefits and financial services that help our customers and neighbors feel more safe and secure during turbulent times. We keep a short list of the big ideas that guide us and call them
Ameritas Values
. At the top of the list is "Integrity," and it means that our actions match our words. We can be counted on to be there and do the right thing … to make the best decisions possible with the most complete information available. The financial measures detailed our latest
Financial Strength and Stability
message demonstrate that commitment, and enable us to navigate uncertain times with confidence and optimism. You can take comfort in knowing that Ameritas is here for you, focused on fulfilling life. Visit the
About Us
section and our
Financial Strength
page, or download the
Ameritas Mutual Holding Company 2022 Annual Report
to learn more.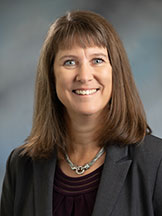 Sue Wilkinson
Executive Vice President, Chief Financial Officer and Treasurer
XXX
About Ameritas
Ameritas is a marketing name for Ameritas Mutual Holding Company and its affiliated subsidiary companies, including Ameritas Life Insurance Corp. and Ameritas Life Insurance Corp. of New York. Founded in 1887, Ameritas offers a wide range of insurance and financial products and services to individuals, families and businesses. These products and services include life insurance; annuities; individual disability income insurance; group dental, vision and hearing care insurance; retirement plans; investments; asset management; and public finance. Securities offered through affiliate Ameritas Investment Company LLC., member FINRA/SIPC and investment advisory services offered through the business name of Ameritas Advisory Services.