3 Tips to Improve Your Employee Benefits Education Plan
January 27, 2022
|

4 min read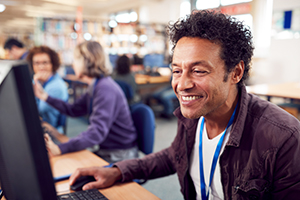 Companies invest a significant portion of their budget in employee benefits. They know that offering a quality benefits package helps attract and keep top workers. Employers also want to take care of their employees, providing insurance and perks that workers value. However, many employees don't take full advantage of their coverage options because they don't know what's available or how to use their plans. Review three tips to improve your employee benefits education plan.
1. Identify points of confusion
When reviewing benefits information, employees may interpret the plans differently. Survey workers and set up listening sessions to find out the insurance topics and coverage details workers find confusing. Let workers know who to contact when they have benefits questions and provide a secure online resource center housing all of the company's benefits documents.
2. Refine benefits communication
Business experts report that listening to employee feedback can lead to more employee engagement and increased company growth. After surveying and listening to employees, develop a communications plan to answer questions and explain benefits and coverage features.
Studies show that 8 out of 10 employees face challenges when receiving care, often because of complex benefits. Many are unsure if their benefits cover specific procedures or what they need to pay upfront for copay or deductible amounts. Sometimes workers don't know who to contact for explanations. In fact, 90% of those surveyed who deal with chronic medical conditions face additional uncertainty and could use assistance navigating and coordinating their care.
Prepare comprehensive employee benefits guides with explanations and descriptions that answer employees' questions and concerns. Set up a monthly schedule to communicate new benefits information or answer employee questions. Use different communication methods to reach employees, including emails, videos, infographics, online presentations and in-person meetings with brokers and insurance representatives. Make sure to include real-life examples from employees who use their benefits, as well as charts and graphs to show coverage costs and savings.
3. Keep communications open
Regularly ask for employee feedback on everything: benefits options, communication preferences and coverage features. The goal is to help employees feel comfortable asking questions and giving input. Employees who feel their opinions and advice are valued are more likely to be engaged, interested in helping the business grow and willing to stay longer on the job.
Employees today are looking for benefits and perks like flexible time off and support for mental health and well-being. Employers can take cues from employees to help them adjust and update their benefits packages. But to be most successful in providing benefits that attract and retain the best talent, employers should leverage data their brokers and insurance carriers can provide that shows benefits usage each year, alongside recommendations for building a stronger benefits package. Review this whitepaper to learn how employers are making their best benefits decisions based on needs and supporting data.
Need help with business planning products?
From comprehensive business planning to employee benefits, we can help create a financial strategy that's best for your business.
Choose from dental and vision insurance plans with provider network savings and day-one benefits on most plans.
Not sure how much dental coverage you need? Find out the average cost of a dental procedure in your area with our dental cost estimator.
Want the latest & greatest from our health blog
straight to your inbox?
Subscribe today for a periodic email with our latest posts.