Community Impact
And we show we care by sharing our resources. We share time with school and community programs. We share talent by helping lead nonprofit organizations and local events. We share over $1.6 million annually in corporate and individual donations. The spirit of giving symbolizes our commitment to fulfilling life. It's also embodied in one of our core values: We will serve our communities with purpose.
We give because we care
Ameritas has a reputation as a company that cares. But really, we're people who care — who care enough to give.
We give with purpose
We focus our giving on three core causes: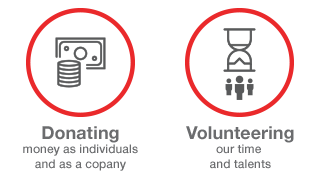 We call it fulfilling life
What's fulfilling life? In this sense, it's a commitment to be responsible and contributing members of the communities where we live and work. We purposefully use our resources — our time, talent and money — to make a positive impact on everyone around us.
Volunteering is part of our day job
Sometimes people need help when it's not convenient for us to give it. That's why company policy allows us to volunteer during the work day. Our benefits package includes eight hours per month of paid time off for volunteering. And we're encouraged to use it all.
Three types of community giving
We offer gifts of $5,000 and less to local organizations and events promoting goodwill and good relationships. We have another fund for matching donations made by employees, in effect doubling their impact. Lastly, the Ameritas Charitable Foundation makes larger investments in communities that have an Ameritas presence. Donating money is just one of the ways Ameritas cares.
This scholarship makes perfect sense to us
Education is one of our core community causes, and life insurance is a big part of our business. It seems natural for us to sponsor a Life Lessons Scholarship for students who've lost a parent or guardian. Plus, our customers, field partners and employees all get involved in selecting the recipient. These young people inspire us. Their stories are powerful reminders that what we do can have a profound effect on people's lives.
A website helps tell our amazing story
The concept behind the Hours Project is simple: It's about sharing the amazing story of our commitment to communities. Using a dedicated website, we create service projects, recruit team members, add event photos and videos, and log volunteer hours. In 2018, we logged more than 300 projects and 10,440 hours. Sharing time is another way Ameritas cares.
Our signature charity: The United Way
United Way is a world-wide organization with a local focus on education, income and health. Its mission aligns with our company's fulfilling life mission and philanthropic strategy. Over the years Ameritas and United Way have built a special partnership.
We conduct United Way pledge drives at five locations in three states. In 2018, individual and corporate giving totaled nearly $750,000.
In Lincoln, Ameritas is among the companies conducting drives earlier in the year, so the public campaign can begin with momentum.
Many Ameritas officers have chaired the public United Way campaign, and many employees have served on community committees.
We believe in win-win volunteering
When we volunteer, we focus on the people we're serving. But we benefit, too. Volunteering is a great opportunity for us to develop and demonstrate leadership skills, build relationships, and show we can take on challenges. When Ameritas cares, everyone wins.