4 Ways to Help Employees Save Money with Existing Benefits
August 15, 2022
|

5 min read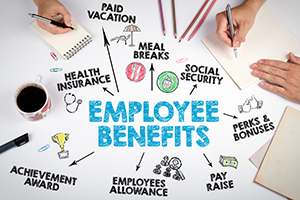 Inflation is impacting the prices of goods and services in nearly every industry. More than ever, employees are worried about how rising costs are impacting their budgets and livelihood. Many live paycheck to paycheck, barely able to pay their rising rent, grocery and fuel bills. On top of that, workers are concerned about how they'll afford benefits and necessary health care procedures. Here are four ways employers can help employees save money with existing benefits.
Review existing plans 
Today's employees want options in their benefits packages. They expect employers to provide medical, dental and vision coverage. They want a range of plans that help manage different needs in their lives. Workers also need mental health support, caregiver assistance, flexible schedules and paid time off. Employee needs also include financial assistance programs, such as student loan repayment, savings plans, retirement choices, and budgeting and planning.
Know what your workers want. Ask them during coffee chats or department meetings. Or work with your broker and insurance carrier representative to design a survey to help you gather specific details about employee preferences. Use this information to update or create a benefits package based on those preferences and needs.
Don't forget to develop a communications strategy to tell employees about their updated benefits plans. Explain how employee feedback is used in the package design. Also, tell workers about updates made to traditional coverage premiums or plan features. Being transparent will help employees trust that you are offering the best benefits possible.
Good communication contributes to employees' satisfaction with their job. Through word of mouth, you'll quickly develop a reputation as an employer of choice. This gives employers in all industries a considerable advantage in recruiting and keeping top employees.
Maintain premiums
Employees are worried about health care costs. Although they value their benefits, they worry about paying increased monthly premiums and meeting plan deductibles. Employees know that most benefits plans go up a few dollars every year. Most years, workers can absorb these premium increases. But with everything going up, employees are concerned about how to budget for all the extra costs. All too often, workers opt out of benefits or choose a higher deductible plan, hoping they can get by.
So, one of the ways employers can support employees is by keeping benefits premiums stable. Absorb cost increases instead of passing them on to workers. Communicate these decisions with employees so they understand the full value of their benefits and how much the company is pitching in.
Encourage workers to use their benefits, especially preventive health care screenings. Annual preventive exams, such as mammograms and skin cancer screenings, can help catch medical conditions early on. The same applies to dental and vision health. Early detection is the key. This way, people can avoid often invasive, uncomfortable and expensive medical, dental or vision treatments.
By being open and communicating these messages, you'll gain the appreciation of your team. It's also easier to engage workers and recruit new employees.
Offer rewards and discounts
Many employers are reviewing ideas to assist employees with rising costs by offering rewards programs. Popular options include extra time off, gifts, bonuses, team lunches, health and wellness incentives, and fitness memberships. Some businesses also offer employee discount programs with savings on vacation trip tickets and discounts off of home and appliance purchases. Savings also can include gift cards for restaurants, groceries and big-box stores.
Offering these programs is another way to show employees that you care about them.
Provide training and development
Today's employees are looking for stability and appreciation. Salary and benefits go a long way in recognizing each employee's value. But workers also want to improve their knowledge and skills. Provide cost-free training programs while on the job.
Offer tuition assistance to help employees with educational pursuits. Recognize employee achievements and ask them to share their newly acquired expertise with other team members. Many people enjoy mentoring other workers and teaching the new skills and knowledge they've learned.
Need help with business planning products?
From comprehensive business planning to employee benefits, we can help create a financial strategy that's best for your business.
Want the latest & greatest from our health blog
straight to your inbox?
Subscribe today for a periodic email with our latest posts.