5 Reasons Why Employers Should Offer Eye Care Benefits
March 10, 2022
|

5 min read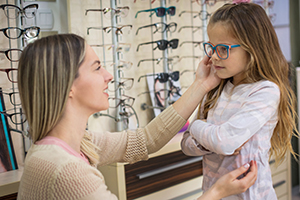 Competition for talented workers is increasing. Companies are offering competitive salaries and better benefits and perks to attract top employees. However, not just any benefits will do. Employees are looking for companies that provide vision coverage, especially for their families. Review five reasons why employers should offer eye care benefits.
1. Enhances competition
Employees today consider vision coverage a staple benefit. They expect medical, dental and vision plans included in their benefits packages.
Eye care benefits used to be a "nice to have" benefit. But studies show that 85% of adults today want vision care coverage.
In fact, research indicates that 87% of employees say that an employee benefits package with vision coverage can influence their decision to apply for a new job or stay with their current employer. About 32% of people surveyed know someone who accepted a new job because of an attractive benefits package.
2. Keeps employees healthy
Eye care benefits cover regular eye exams where doctors can detect changes in employees' vision and the health of their eyes. Often the doctor may notice changes in the eye that could signal the onset of medical conditions, such as diabetes. Vison exams also can reveal high blood pressure, heart disease, high cholesterol and eye diseases. Catching these problems early can help resolve them with less expensive treatments.
Many employees and their dependents have vision problems but don't know it. About 21% of adults know they need vision help but haven't done anything about it. As employees spend time on computers, they will need regular eye exams, and possibly eyeglasses or contacts, to see properly. Also, encourage employees to practice the 20-20-20 rule: Every 20 minutes, look at least 20 feet away, for about 20 seconds.
For more ideas on how employees can keep their eyes healthy, review this blog.
3. Supports productivity
Keeping employees healthy helps support employee productivity. However, offering eye care benefits is not enough. Employers need to educate employees about eye care benefits.
Explain why vision coverage is important, what the plan covers and how to use the benefits. Discuss common eye problems employees may experience, such as eye strain from computer usage, dry eye, damage from ultraviolet light or common eye diseases. Provide details about the value of preventive eye exams in maintaining healthy eyes. Most plans cover all or most of an annual eye exam. Include real examples from employees on how they use their eye care benefits and the value it brings to their overall health.
4. Shows appreciation
Employees want to work for companies who care about them beyond the job they do. Offering eye care benefits, as part of an overall program of well-being benefits, shows workers that you want to protect their health and quality of life. And since many employees work in remote offices, they may be spending more time on digital devices. They can use eye care benefits to keep their eyes healthy and maintain good vision.
Research shows that about 71% of business leaders say that employee engagement is critical to their business success. Conversely, 69% of employees surveyed indicate they'd work harder if they were better appreciated. Employers can show they value their employees' contributions by providing a range of benefits that employees want, such as eye care coverage.
5. Saves money
Employers who cover the full or partial cost of an eye care benefit end up saving money. Employee Benefit News reports that companies gain $7 for every $1 they invest in their employees' vision coverage. This equates to savings of over $2,700 per employee annually.
There are many types of eye care benefits that employers can provide to their employees. Learn about the affordable vision plans available through Ameritas. We have vision plans that include access to two of the largest vision networks in the nation: VSP and EyeMed.
Need help with business planning products?
From comprehensive business planning to employee benefits, we can help create a financial strategy that's best for your business.
Want the latest & greatest from our health blog
straight to your inbox?
Subscribe today for a periodic email with our latest posts.