How to Engage Senior Workers During the Great Resignation
March 3, 2022
|

5 min read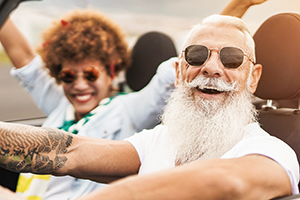 Millions of younger employees are leaving their jobs to pursue new work opportunities. As a result, many employers struggle to find new workers to fill open positions. They are unsure how to keep business operations going without the necessary staff.
Some companies have opted for hiring gig contract workers to fill critical roles. Often these workers are highly skilled and can be assigned to complete specific tasks. However, many other employers are finding another source of workers right in their midst: older workers who are pre-retirees or semi-retired. These individuals are knowledgeable about the company, products and customers. And, they are interested in helping out, especially if they receive recognition, appreciation and incentives. Here's how to engage senior workers during the Great Resignation.
Business experts say today's employees are looking for new challenges and career development options. Review four tips on how to keep employees from leaving, as well as strategies to get your best employees to stay.
1. Provide fulfillment
As older workers look toward retirement, many struggle with depression. They've worked hard and feel young at heart. They still want to contribute to the success of the business. However, they often feel unwanted as companies favor the opinions and ideas of younger workers.
Asking senior workers to step in to fill open positions can provide the fulfillment they desire and re-engage them with your company. Some older workers may be interested in working full time, while others prefer a modified schedule with fewer hours. Try to accommodate their scheduling needs and give them meaningful work. These workers will be more loyal and become active contributors to your success.
2. Support financial needs
Due to the pandemic and economic inflation, many pre-retirees and semi-retired workers face different financial circumstances. The investments they had planned on have lost value, and prices for housing and daily living needs have increased. They're not sure how to cover expenses.
Many senior workers want to continue to work beyond age 65 to supplement their income. Offer jobs with flexible hours that older employees can tailor to fit their work-life balance. Seniors will be grateful for your support and the opportunity to earn extra money to help them stretch their budgets.
3. Offer flexibility
Offering flexible work hours is an excellent way to attract these valuable workers and keep them engaged with your company. Instead of working a traditional job, seniors may prefer project work with specific deadlines. This way, they can adjust their hours to accommodate other personal or family needs.
4. Recognize contributions
Seniors, like all employees, want to know that their ideas and work contributions are appreciated. Include older workers in all of the rewards and recognition programs offered to other employees. Take time to thank them for their work and commitment to your company, especially if they are filling in for employees who quit due to the Great Resignation.
Make senior workers feel appreciated by offering benefits and programs that fit their needs. Many want financial well-being programs with counseling services to help set a budget and review savings plans. They also value options to participate in a 401(k) retirement savings fund. Some also have student loan debts incurred for professional development, or to help kids or grandkids with college expenses. Engage these talented workers by offering repayment assistance for their student loans.
If these workers don't qualify for employer-sponsored benefits, companies can make sure to help them access individual insurance coverage, such as dental and vision plans that may not be available through Medicare. Individual insurance usually is purchased online directly from an insurance carrier, so seniors can keep the coverage when they retire.
Need help with business planning products?
From comprehensive business planning to employee benefits, we can help create a financial strategy that's best for your business.
Want the latest & greatest from our health blog
straight to your inbox?
Subscribe today for a periodic email with our latest posts.