How to Survey Employees About their Benefits
February 18, 2021
|

4 min read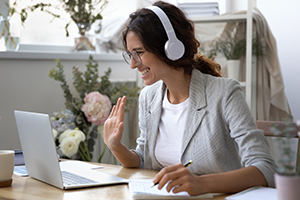 The best employers want to understand their workers' concerns and how employee benefits impact their lives. These businesses know that the right benefits and rewards can improve employee engagement and retention. This, in turn, can enhance employee relationships and productivity. Happier employees are good for business. To provide a mix of benefits that meet workers' needs, employers need to listen and gather employee feedback. Review these tips on how to survey employees about their benefits.
Define the goal
Before creating a survey, identify your goals. What benefits issues or problems do you want to learn more about? What do you plan to do with the feedback? Think about the best way to gather this information, such as:
1. an in-person informal discussion
2. a pulse survey with a few questions asked through email
3. a more formal survey using an online survey tool
Employers may find using a combination of these methods works well for different benefits surveys conducted throughout the year.
Identify a coordinator
Gathering employee feedback can take time. If you are a team leader, it is easy for the project to get put on the back burner as you deal with more pressing issues. Weeks or months may go by before you get back to completing the survey process.
Assigning a survey project to one team member can help ensure the survey gets done. Work with this person to complete each step of the survey process. The work may include:
1. writing questions
2. identifying employee participants
3. conducting the survey(s)
4. gathering and analyzing the responses
5. comparing survey results against information previously gathered
6. coordinating the feedback and sharing it
Keep it short, be specific
Employees are more likely to participate in a survey if you ask only a few questions. So keep the survey short.
Write questions using simple terms. Avoid corporate jargon that may be confusing to employees. Make sure to ask specific benefits questions, using the fewest number of words possible. Phrase questions as though you were asking questions in a casual conversation.
Make sure questions are easy to understand. Ask several people to review the questions and change any words that may be considered confusing.
Explain the purpose
At the start of the survey, explain the reason for the questions and how employees' responses will be used. Also, employees will be more likely to complete the survey if they know it is confidential. So reassure workers that survey responses will not be linked to their name.
Share the results
After conducting the benefits survey and gathering responses, compare the feedback against previous surveys. Note any significant differences. Then create a report to share with team members.
Then share the summarized feedback and overview of the responses with employees. Thank workers for taking the time to participate in the survey. Explain how their feedback will be used to update benefits and rewards, develop better communications, or improve customer and team experiences.
Need help with business planning products?
From comprehensive business planning to employee benefits, we can help create a financial strategy that's best for your business.
Want the latest & greatest from our health blog
straight to your inbox?
Subscribe today for a periodic email with our latest posts.