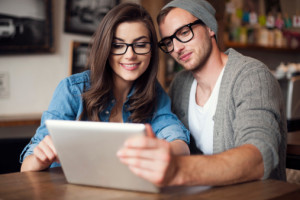 Historically people have purchased prescription glasses through their eye doctor. But now there are online store options where quality eyewear can be purchased at a lower cost. However, there are three things to know about these purchases, as provided by NBCNews Today.
1. Get an accurate prescription – Schedule an exam to have your eyes checked and obtain a printed prescription for new glasses. Also, ask for a pupillary distance measurement (space between your pupils in millimeters). Eye doctors usually take this measurement during the exam, but, unless requested, it may not be included with the prescription.
2. Select the right style and fit – After the exam, try on glasses at the doctor's office to find designs you like that fit well. Note the name of those you prefer, take pictures with your smartphone or write down measurements of the frame and width of the bridge and lenses. If you already own prescription eyewear, use those measurements.
3. Search online for the best deal – After your eye exam, search optical businesses, such as Zenni Optical, 39 Dollar Glasses, Frames Direct or EyeBuyDirect. Top vision networks, such as VSP and EyeMed, also offer online shopping options. Look for the designs that fit well at the doctor's office or new styles that match your measurements. Some online companies provide a tool to help buyers select the frame that looks best on their face.
Select the lens material that fits your needs:
Plastic – An economical choice best for minimal correction, up to +/-1.75
Polycarbonate – An impact-resistant style good for kids and people who are active, with a correction value of up to +/-4.00
High index 1.67 – Lighter than plastic and recommended for people with a stronger prescription, up to +/-9.00
High index 1.74 – A thin, light material best for people with high correction.
Don't round up the numbers. For example, if the eyeglasses that fit your face measure 120 millimeters, purchasing a frame measuring 126 millimeters will be too big.
After finding the perfect frame, complete the order information and double-check the numbers before submitting.
Before ordering, search for online coupon codes. Many optical businesses provide coupons to encourage sales. If needing financial assistance, check local clinics for discounted eye exams and frames, call your local Lion's Club, or contact New Eyes, a nonprofit organization that provides glasses for people in need.
Need help with business planning products?
From comprehensive business planning to employee benefits, we can help create a financial strategy that's best for your business.
Want the latest & greatest from our health blog
straight to your inbox?
Subscribe today for a periodic email with our latest posts.