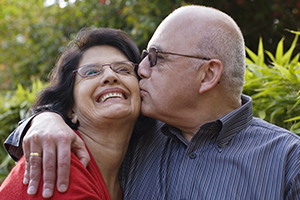 As people age, they notice various health changes. In addition to experiencing aches, pains and medical problems, they also may notice changes in their vision after age 40. People may need prescription eyeglasses or contacts to help them see objects close up or far away. But after age 60, people need to watch for signs of diseases that could lead to vision loss. Consider three things to know about aging eyes and common vision problems.
1. Eye diseases
People can develop an eye disease at any age, but they occur more frequently after age 60. About 33% of seniors have a vision-reducing eye disease by age 65. These diseases tend to change people's vision permanently, such as these six common vision problems:
2. Age-related vision changes
Vision changes can cause people to have problems driving, especially seniors. These issues can develop before they're aware of a vision condition. Common signs include problems seeing road signs or the vehicle dashboard, difficulty adjusting to bright lights, judging distances and speed, trouble seeing in low light or at night, or loss of peripheral or side vision.
Often, older people don't recognize symptoms of eye diseases because they can see well. But that doesn't mean they won't develop vision problems. So, it's best to get a yearly eye exam and watch for age-related vision changes. If any vision changes occur between annual exams, contact the eye doctor.
3. Schedule annual eye exams
The American Optometric Association recommends an annual comprehensive eye exam for everyone age 60 and older. During the exam, the eye doctor will conduct a series of tests to evaluate the healthiness of the eyes and screen for vision correction needs. These tests provide a baseline for the eye doctor to detect even slight vision changes in the future.
More women than men are likely to suffer from vision issues that can threaten their sight. But few women are aware of it. Learn about five problems with the eyes that women face as they age.
Need help with business planning products?
From comprehensive business planning to employee benefits, we can help create a financial strategy that's best for your business.
Want the latest & greatest from our health blog
straight to your inbox?
Subscribe today for a periodic email with our latest posts.