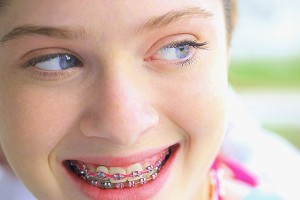 Kids' smiles are contagious. Many kids show off their wide, toothy grins at any opportunity. But others rarely smile; sometimes because they're embarrassed about their crooked teeth.
The American Dental Association (ADA) recommends having braces, otherwise called orthodontics, installed to slowly straighten kids' teeth and correct irregular bite alignment and malocclusion.
However, in the desire for beautiful smiles, some parents want their kids to have braces while their permanent teeth still are coming in. But according to the ADA, if kids are treated with braces too early, they may need another phase of treatment after all their permanent teeth are in place, making the straightening process more expensive.
The ADA recommends having braces installed when patients are between the ages of 8 and 14 for optimal results.
To learn more about braces, review these articles and share your feedback:
Braces For Young Kids Might Not Always Be Best
Have you or your kids been treated with braces? At what age were they installed and how long were they worn?
Need help with business planning products?
From comprehensive business planning to employee benefits, we can help create a financial strategy that's best for your business.
Want the latest & greatest from our health blog
straight to your inbox?
Subscribe today for a periodic email with our latest posts.