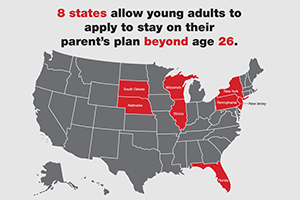 Growing up is bittersweet. As you enter your 20s, you enjoy many fun and exciting experiences. And you also face new responsibilities.
Like many young adults, you've probably taken your health for granted, especially your teeth and eyes. When covered under your parents' health insurance, you didn't have to think about it. But you've probably heard that after age 25, you need to get your own insurance. Still, you wonder, can you stay on your parents' insurance after age 26? Here are four things to know.
Know the "aging-up" rule
Most states require adults to get their own insurance by age 26. However, eight states allow young adults to apply to stay on their parent's plan beyond age 26. These states are Florida, Illinois, Nebraska, New Jersey, New York, Pennsylvania, South Dakota and Wisconsin (as of March 7, 2022).
Identify your insurance needs
After your 25th birthday, start thinking about your health needs. You may feel that you're in good health and only need to get medical insurance to cover unexpected health costs. However, health insurance alone is not enough. You also need to weigh the advantages of dental and vision Growing up, you probably took good care of your teeth and eyes. So as you grow older, you want to keep them healthy. But if you ignore dental and vision needs now, health problems can develop that lead to expensive (and often invasive) care in the future.
Review insurance choices
There are many medical, dental and vision insurance options out there. If you're employed, ask your employer about insurance benefits.
If you aren't eligible at work for employer-sponsored benefits, you can get medical insurance through the ACA Health Insurance Marketplace. But to get the most value for dental and vision insurance, you'll want to purchase an individual dental and vision plan from a reputable carrier, such as Ameritas.
Individual plans purchased online directly from an insurance company typically provide significant savings in the out-of-pocket costs you'd have to cover for dental and vision care.
Dental insurance – The value of dental insurance is in the cost savings it provides. If you don't have dental coverage, you'll pay for dental care yourself. People with dental insurance tend to use it, scheduling regular preventive checkups to ensure their teeth and gums are healthy. While checking your teeth, the dentist will look for symptoms of diseases and health concerns that could reveal an underlying medical condition.
Most individual dental plans cover a preventive exam, professional cleaning and bitewing X-rays each year. Insurance also pays a portion of the cost for fillings. More extensive procedures, such as a crown or root canal, may have a waiting period for coverage.
Vision insurance – Vision benefits are an investment in your long-term health and wellness. You probably spend hours every day on digital screens, from smart TVs and smartphones to computers and gaming devices. Increased screen time can lead to digital eye strain, causing vision discomfort and pain. This constant demand puts more pressure on your vision, making it essential to have regular eye exams.
An individual vision plan generally includes coverage for an annual exam and benefits to help pay for materials, such as eyeglasses or contacts.
People who have vision insurance tend to schedule regular eye exams. During these appointments, the eye doctor will look for changes in your vision to ensure your eyes are healthy and you can see well. The doctor also will check your eyes for signs of potential medical issues, such as diabetes, that could impact your overall health if left untreated.
Purchase insurance coverage
If you're eligible for employer-sponsored insurance benefits, find out when you can get coverage before age 26. If your parents are covered through their job, you'll probably need to have insurance by the end of the month that you turn 26.
If purchasing medical insurance through the ACA Health Insurance Marketplace, review the plan requirements. If your parents have insurance through the Marketplace, you can remain on their plan until the end of the year of your 26th birthday.
For dental and vision benefits, purchase a plan directly from a reliable insurance company that's been in business for more than a century (for example, Ameritas.)
Choose from dental and vision insurance plans with provider network savings and day-one benefits on most plans.
Not sure how much dental coverage you need? Find out the average cost of a dental procedure in your area with our dental cost estimator.
Want the latest & greatest from our health blog
straight to your inbox?
Subscribe today for a periodic email with our latest posts.