Why Offer Individual Dental Insurance for Retiring or Semi-Retired Employees?
December 12, 2019
|

4 min read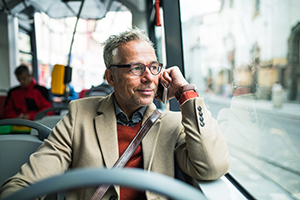 Businesses are facing an interesting trend: Instead of retiring, older employees are staying longer in the workforce. In fact, many plan to work into their 70s. Historically, people in their late 50s and early 60s spent hours planning for retirement. Today, many older employees want to remain active and continue to contribute to their employers' success. Some want to work full time. Others choose semi-retirement. However, they still value benefits that help them take care of their health. Individual dental insurance does just that. So here's why employers should offer access to individual dental insurance for retiring or semi-retired employees.
Impacts attitudes
Employers who offer individual dental insurance can improve older employees' quality of life and attitudes. When senior team members' well-being needs are met, they are better able to focus. This means they can give their full attention to projects and support team initiatives.
Improves health
Senior employees with individual dental coverage can take advantage of preventive dental checkups and cleanings. Dentists can catch issues such as gum disease and tooth decay early. This includes dry mouth, which can be caused by medications. Find out seven ways to prevent tooth decay.
Protects financial health
Individual dental insurance coverage can help seniors cover unexpected oral health needs. For example, they may need a crown, root canal or treatment for periodontal disease. With individual insurance, they generally have instant access to benefits. They don't have to put off their dental needs and save up to afford the total cost out of pocket. In addition, addressing oral health needs early helps avoid more serious, and possibly more expensive, procedures in the future. Read this blog on four ways to lower dental costs.
Helps maintain benefits budget
Employers can offer older employees access to dental insurance without impacting their own benefit budgets. Employees pay the premium and have access to dental coverage in nearly any location.
Enhances reputation
Offering quality individual dental insurance for senior employees sets businesses apart from their competitors. It shows they care about their employees' well-being. As the good news spreads, it creates interest among potential employees. And it positively impacts recruitment and retention.
Everyone should protect their smiles as they age. Review these helpful tips about maintaining oral wellness and, in turn, your overall well-being. Also, review these individual dental and vision insurance plans to get an idea of what's out there.
Need help with business planning products?
From comprehensive business planning to employee benefits, we can help create a financial strategy that's best for your business.
Want the latest & greatest from our health blog
straight to your inbox?
Subscribe today for a periodic email with our latest posts.