Why Employee Well-being Programs are as Important as Health Benefits
September 16, 2020
|

5 min read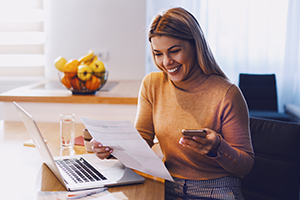 For years, employers have played a role in their employees' health and well-being. Many companies offer a range of benefit programs that meet employees' needs. And now, more than ever, employees depend on their employers to help keep them healthy and safe. Recently, Ameritas partnered with Workforce magazine to learn about business commitment to employee health and well-being. Here's why employers think employee well-being programs are just as important as health benefits.
Well-being goes beyond physical fitness
Employers offer a range of well-being and health benefit programs to meet employees' needs. Finding the right mix of benefits to offer starts with an understanding of what well-being means. Wellness programs address employees' physical health. But overall well-being programs also consider employees' mental health, financial stability and satisfaction with their career status and community involvement.
In the Workforce survey, 89% of participants say wellness benefits are expanding beyond physical health. Now they are offering programs to address mental, financial and social well-being. And over the next three years, about 87% of employers surveyed plan to offer mental health benefits to their employees. Over 85.7% plan to offer stress management programs. Most others also want to provide financial and social health benefits.
Employers have been offering a variety of rewards, perks and benefits to employees for years. By implementing a diverse mix of benefits that address employees' changing needs, employers hope to boost employee health beyond physical fitness.
Valued by businesses of all sizes
During uncertain times, employers – especially small businesses – may need to reduce spending. And employees worry that benefits and well-being programs may be cut. But the Workforce survey shows there is no significant difference between small and large companies' decisions to increase or decrease their well-being programs.
The small percentage of employers who don't offer well-being programs say the benefits are too expensive, or they are unsure how to manage the programs. Other employers say management doesn't support them, or they can't prove the return on investment.
Ultimately, employers who offer employees well-being programs find them essential to remain competitive when recruiting and retaining top talent.
Popular with employees
Employees love to use their well-being benefits. In the Workforce survey, about 45% of employers report participation in well-being programs has increased in the past year. Only 3% say participation has decreased.
During times of uncertainty, employee health and well-being take on new meaning. Employers use these benefits to keep employees safe and content. They ensure employees have access to much-needed resources, such as stress management tools, online meditation apps, and incentives for remaining active and healthy. These benefits keep employees safe and secure.
Offers return on investment
Many employers offering well-being programs want to align them with their mission and values. But often, the biggest challenge to providing well-being benefits is the perceived inability to prove the return on investment.
For many employers, desired outcomes include increasing engagement, improving retention and reducing health care costs. Once companies identify their goals, they can more easily track their return on investment. Those monitoring the impact of these programs find they offset the costs of health care for employees.
Across the country, employers see the impact of well-being programs. The Workforce survey found many companies have success in connecting outcomes with business goals. Others are still learning how to measure the effect.
Need help with business planning products?
From comprehensive business planning to employee benefits, we can help create a financial strategy that's best for your business.
Want the latest & greatest from our health blog
straight to your inbox?
Subscribe today for a periodic email with our latest posts.