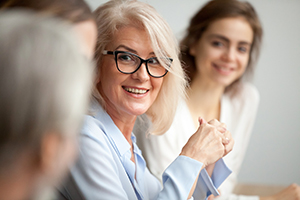 About 20% of Americans, or 48 million people, have some degree of hearing loss. In the past, mainly older employees suffered from hearing problems. But today, younger employees also are experiencing hearing loss. Here's how employers can help employees with hearing loss.
Support employees with hearing loss
Hearing loss can impact an employee's work performance and relationships with family and friends. Providing education and care solutions helps employees address the issue. Co-workers also can learn how to support and help employees with hearing loss.
Offer access to hearing benefits
Providing hearing benefits can help employees enjoy better health. Ameritas offers a SoundCare® benefit to help protect and preserve hearing. The plan can be tailored to your employees' needs.
Here's how it works:
1. Provides a benefit for hearing exams – Plan members earn a set allowance each benefit year for a comprehensive hearing exam.
2. Features a benefit for hearing aids – The SoundCare plan provides members with options for hearing aids. Often people who need hearing aids avoid wearing them. They don't want others to know they have a hearing problem (even though it becomes abundantly clear).
3. Includes an allowance for materials – SoundCare plan members receive a materials allowance to help cover maintenance costs, batteries, service contracts, fittings, earmolds and repairs. It's a great way to help employees with hearing loss keep their hearing aids performing properly. This way, employees won't become frustrated and put them away in a drawer somewhere.
Educate parents about kids' hearing needs
As you can imagine, good hearing also is important for kids to learn and be safe. If hearing problems develop and go undetected, kids may struggle to grow and adapt to the world around them. Read this blog to learn more.
Need help with business planning products?
From comprehensive business planning to employee benefits, we can help create a financial strategy that's best for your business.
Want the latest & greatest from our health blog
straight to your inbox?
Subscribe today for a periodic email with our latest posts.