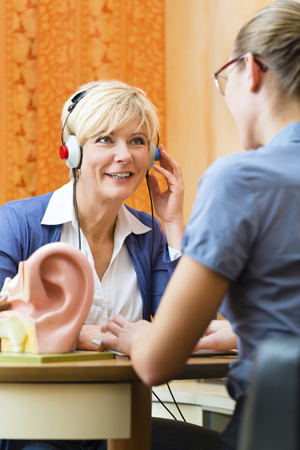 Hearing loss affects millions of Americans, significantly impacting their work performance and relationships with friends and family. If hearing loss were considered a disability, it would rank among the highest impairments in the United States. Here are five facts to know about hearing loss and benefits.
 1. Impacts old and young adults
Many people believe hearing loss occurs with aging. They are partially correct. By 2020, about 55 percent of adults age 70 and older will be diagnosed with hearing loss.However, doctors are seeing an increased number of younger patients, age 20 and older, with impaired hearing. It's expected that hearing loss among young adults will increase from 15 percent in 2020 to 22 percent by 2060.
 2. Invisible disability
Hearing loss is considered an invisible disability. Changes in hearing usually occur gradually until one day it's really noticeable. Common noises or conversations can suddenly sound muffled, or the TV volume needs to be louder.That's why it's important to schedule a hearing exam to establish a baseline of normal hearing levels. The test results can be used as a comparison to detect hearing changes in the future.
 3. Hearing changes
Nearly everyone experiences some form of hearing loss during their lifetime. Often the problem is caused temporarily by prescription medications or an illness, such as the flu or an ear infection. However, many other people experience reduced or permanent impairment. This can be caused by natural aging, repeated exposure to loud noises, such as machine engines or listening to digital devices at a high volume, or head trauma from an accident.
 4. Manage hearing costs
Depending on the degree of impairment, some sufferers many benefit from hearing aids or surgery to repair ear damage or to install a cochlear implant. Medical insurance may help with surgery costs. However, many plans do not cover hearing aids. It's estimated that 75 to 80 percent of adults who could benefit from hearing aids don't invest in them due to the cost. Traditional hearing aids cost $1,000 to $6,000 per ear.
 5. Hearing health benefit
Ameritas offers a SoundCare benefit designed to help protect and preserve hearing. The plan is flexible and easily can be tied to an Ameritas dental plan. The complete plan includes an allowance for a hearing exam, hearing aids, and hearing aid maintenance.
Learn how to cope better with hearing loss by reading this blog.
Need help with business planning products?
From comprehensive business planning to employee benefits, we can help create a financial strategy that's best for your business.
Want the latest & greatest from our health blog
straight to your inbox?
Subscribe today for a periodic email with our latest posts.