How to Design Employee Benefits Plans for Health Care Workers
September 28, 2021
|

6 min read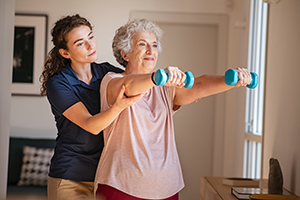 Across the country, health care employees have worked long hours to support the medical needs of their communities. Due to the pandemic, many simply are exhausted. They have focused on taking care of others and put their needs on hold.
Health care employers, such as hospitals, surgery facilities and rehabilitation centers can reinvigorate employees and keep them engaged by offering benefits they value. Review these tips on how to design employee benefits plans for health care workers.
Support health needs
The stress of taking care of others, especially throughout the pandemic, can impact your employees' health. As doctors, nurses and health care workers step back from daily work pressures, they may notice changes in their health, such as new symptoms of medical conditions. Providing generous medical insurance benefits can provide security and reassurance to employees, knowing they have the coverage needed to address health issues.
In addition to physical needs, workers may notice changes in their dental and vision health.
Many employees say that when they complete their shift and go home, they are too exhausted to brush and floss their teeth. Then when they wake up, they give their teeth a quick brush before heading out the door. They probably know it takes at least two teeth brushings a day for at least two minutes each time, plus at least one tooth flossing each day, to maintain their oral health. But they are tired and often self-care such as brushing and flossing don't happen.
Plus, during the pandemic, many employees canceled or delayed annual checkups and professional teeth cleanings. As patients returned, dentists have noticed an increase in people with oral health problems. These include fillings, crowns and root canals, along with jaw pain, broken or cracked enamel caused by teeth grinding.
Stress also can impact health care workers' eyes, creating headaches, eye strain or dry eyes that cause vision problems. Research shows that nearly 33% of adults report eyesight changes since the pandemic started.
Employees want health insurance to handle unexpected medical conditions. But they also want robust dental and vision insurance in their benefits packages for yearly exams and other dental and vision services.
Since employees with dental and vision insurance tend to use their coverage, health care employers may receive more claims from workers. It's essential to work with a dedicated dental and vision insurance carrier with an excellent reputation for supporting large group needs. The carrier should offer multiple plan options and dental and vision networks to give employees a choice of covered features and premiums to fit a range of needs. With dental, some carriers also offer incentives and rewards, which can help retain employees, especially in a market where turnover is common. For vision plans, provide generous allowances for eye exams and glasses or contacts to reward employees' hard work and dedication.
Enhance growth and development
Many health care workers are frustrated by their work experiences. They feel that their organization spends more time improving customer experiences than making sure employees are satisfied and have good experiences. Work experiences can include benefits and perks that encourage meaningful work, work-life balance and team building.
Another way to improve employee experiences is through proactive communications. Explain how business decisions, community needs and economic factors affect operations and employees. Also, regularly share feedback from patients and families, and talk about awards and community support, to show the positive impact they are making.
Employees also yearn for new learning opportunities. Many are frustrated by their lack of career growth. Many health care employers offer tuition assistance. However, make sure associates know how to use it. In addition, schedule internal training programs to help employees master new skills. Provide cross-training experiences to keep employees connected to their jobs and coworkers. Set up pulse surveys to find out topics of interest to employees. Then develop paths for training and internal growth and mobility.
Strengthen employee well-being
The pandemic has been tough on many employees' finances. Research shows that over 60% of adults live paycheck to paycheck. Some have less than $1,000 saved for unexpected expenses.
Health care workers with student loans may be overwhelmed by their debts. Nationally, about 64% of all employees with student loans owe over $20,000. Nearly 31% owe over $50,000 for college loans. Student loan debt is considered one of the largest consumer debt groups, right after home mortgages and before credit cards.
Offering a student loan repayment benefit can help improve employees' financial well-being. When money worries are under control, health care workers are happier, healthier and more productive. In the end, offering this benefit is an excellent strategy for retaining and recruiting talented employees.
Health care employers also should consider offering an emergency savings account benefit. It provides a set amount to assist employees with urgent, unplanned expenses.
Financial counseling is another valuable program. Arrange for a financial professional to provide tips and information to help employees create a budget, establish an emergency fund and save for retirement.
Provide caregiver benefits
Many health care employees also juggle caregiver responsibilities for parents and children. Nationally about 20% of Americans serve as unpaid caregivers for another adult and nearly two-thirds of them also work. Many also take care of younger children. Support your employees by offering extra paid time off and flexibility to care for family needs. Another idea is to offer backup care options for employees when they don't have access to caregiving services.
Need help with business planning products?
From comprehensive business planning to employee benefits, we can help create a financial strategy that's best for your business.
Want the latest & greatest from our health blog
straight to your inbox?
Subscribe today for a periodic email with our latest posts.