How to Offer the Best Employee Benefits in an Evolving Workplace
October 6, 2022
|

3 min read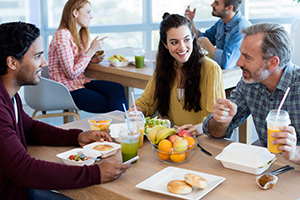 The pandemic has changed the structure of the workplace in lasting ways. Like any other workplace shift, flexible work environments have left employers wondering what changes to make so they can offer the best employee benefits possible.
Employers can take cues from employees to help them adjust and update their benefits packages. But to be successful in providing the most popular employee benefits that attract and retain the best talent, employers should leverage data their brokers and insurance carriers can provide alongside their recommendations.
Data-driven personalization and customization are critical tools for adapting benefits strategies to employees' changing needs.
Ameritas partnered with Arizent to survey HR professionals to find out what benefits they offer and what tools they use to plan and adjust benefits packages. Read this white paper to see the results and get some advice from Ameritas about what data to use when planning benefits for the upcoming year.
Need help with business planning products?
From comprehensive business planning to employee benefits, we can help create a financial strategy that's best for your business.
Want the latest & greatest from our health blog
straight to your inbox?
Subscribe today for a periodic email with our latest posts.