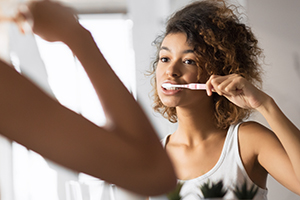 Across the country, people are spending more and more on daily living expenses. As a result, many people are struggling to stretch their paychecks to cover the essentials. So they wonder how they'll handle rising costs for vital health services, such as dental care. For some ideas, review these tips on how to overcome rising dental costs.
Leverage preventive care
One of the best ways to avoid high costs for dental procedures is to take care of your teeth. This involves adopting healthy habits that eventually become routine. Consider these five ways to maintain and even improve your dental health.
Schedule preventive exams
While taking care of work and family responsibilities, do not forget to take care of yourself. Schedule regular dental appointments for checkups and professional teeth cleanings.
During the exam, the dentist will look for symptoms of oral health problems that can lead to costly dental procedures. Often, a dentist can see signs of serious medical concerns, such as hypertension, high cholesterol, oral cancer or diabetes.
Review these video tips on how often adults should visit the dentist, and what kids can expect during their dental appointment.
Purchase dental insurance
Dental insurance makes the professional care you need more affordable. Dental plans cover annual preventive exams that include professional teeth cleanings. Only a professional cleaning can remove plaque and tartar buildup, and keep it under control.
Many employers offer dental benefits, or options to purchase voluntary dental insurance. People who don't have access to employer-sponsored plans easily can purchase an individual dental plan. It's usually purchased online directly from an insurance carrier.
An individual dental plan provides coverage for preventive maintenance, and for unplanned, costly dental expenses. The more expensive dental procedures involve fillings, crowns and root canals. Individual dental benefits help cover these costs, so you do not have to pay the full cost out-of-pocket. If the plan offers in-network savings, visiting a network dentist can make the dental benefits go even further.
An individual dental plan usually provides immediate coverage. Most carriers do not have waiting periods for preventive services, such as exams and cleanings. If there is a waiting period, it is usually for more expensive procedures. With an Ameritas individual dental plan, you get day-one coverage, which means you could go to the dentist the same day you sign up.
But, are you thinking you cannot afford dental insurance? Use this dental cost estimator to find the average cost of dental procedures you may need in the future. Then find out what an employer-sponsored plan or an individual dental plan would cover. Be sure to factor in the cost of the monthly premium. You may find that you cannot afford to be without dental insurance.
Every dental insurance plan covers procedures in different ways. Review expert advice on how to choose the right dental plan that provides the coverage you need.
Need help with business planning products?
From comprehensive business planning to employee benefits, we can help create a financial strategy that's best for your business.
Want the latest & greatest from our health blog
straight to your inbox?
Subscribe today for a periodic email with our latest posts.