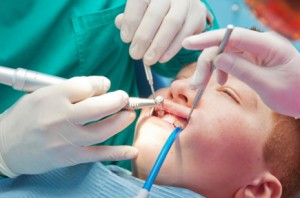 Have you or your kids ever had anesthesia to cope with the pain and anxiety of a dental procedure? Many parents and guardians wonder whether anesthesia is safe for kids.
Understand the risks and benefits of anesthesia
According to the American Dental Association (ADA), several medications are available to help patients relax and stay comfortable during dental procedures. Some drugs control pain, while others put patients into a deep sleep.
The ADA encourages people to be proactive with decisions concerning their dental care, which includes understanding the risks and benefits involved in the recommended treatment, such as anesthesia. Parents or guardians should review recommended dental treatments for their children.
Education and training
USA Today reports that the American Academy of Pediatric Dentistry has concerns about the use of anesthesia for children. The organization recommends dentists receive proper sedation, safety and emergency medical training. It also encourages states to require special permits and licenses for dentists to administer anesthesia to children.
Questions parents should ask
The ADA offers a list of questions that parents and guardians should ask the dentist:
• Who will provide the preoperative evaluation of my child, including his or her past medical history, such as allergies, current prescription medications and previous illnesses and hospitalizations?
• What is the recommended time that my child should be without food or drink prior to the procedure (with the exception of necessary medications taken with a sip of water)?
• Will any sedation medication need to be given to my child at home before the procedure and, if so, how should I monitor my child?
• What training and experience has the dentist received to provide the level of anesthesia planned for the procedure? Does it meet all ADA guidelines?
• Does the staff assisting in the procedure have current training in CPR? Is this training regularly renewed?
• Does the state dental board require a special sedation/anesthesia permit or license that allows for anesthesia use in the dental office? Does the dentist have a current permit or license?
• In addition to the use of local anesthesia (to numb tissues), what level of sedation or general anesthesia will be given to my child? Is it minimal sedation (relaxed and awake), moderate sedation (sleepy but awake), deep sedation (barely awake) or general anesthesia (unconscious)?
• How will my child be monitored before, during and after the procedure until he or she is released to go home? Are the appropriate emergency medications and equipment immediately available, if needed, and does the office have a written emergency response plan for managing medical emergencies?
• What instructions and emergency contact information will I receive in case I have questions or my child experiences complications after returning home?
Learn more about anesthesia in the following articles:
Need help with business planning products?
From comprehensive business planning to employee benefits, we can help create a financial strategy that's best for your business.
Choose from dental and vision insurance plans with provider network savings and day-one benefits on most plans.
Not sure how much dental coverage you need? Find out the average cost of a dental procedure in your area with our dental cost estimator.
Want the latest & greatest from our health blog
straight to your inbox?
Subscribe today for a periodic email with our latest posts.