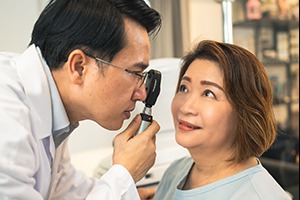 Since LASIK eye surgery was FDA approved in the 1990s, millions of people now enjoy better vision. However, despite the popularity of LASIK procedures, many people still have questions about the surgery and wonder if it's safe. Here are five things you should know about LASIK eye surgery.
1.) Background
LASIK, officially called laser-assisted in-situ keratomileusis, is a surgical procedure designed to correct nearsightedness, astigmatism and farsightedness. Many people wear prescription eyeglasses or contacts to correct these vision issues. However, LASIK eye surgery can reshape the cornea to significantly improve these vision problems and most patients no longer need corrective lenses.
2.) Procedure
During LASIK surgery, the surgeon cuts a flap in the cornea and flips it open to the middle area of the eye called the stroma. Laser pulses are applied to the stroma to correct the shape of the cornea. Following LASIK, most people no longer need prescription eyeglasses or contacts.
Before scheduling LASIK surgery, the eye doctor will determine if LASIK is the right option for you. Typically, LASIK is not a good choice for all patients, such as those with:
a) Health issues, such as lupus, rheumatoid arthritis or diabetes
b) Eye diseases, such as glaucoma or dry eyes
c) Thin or uneven cornea
d) Expectant or nursing mothers
e) Recent vision prescription changes
Eye doctors also do not recommend LASIK surgery for people younger than age 18 or for those taking certain medications.
Did you know that it's possible to enjoy good vision throughout life? Review these 11 eye care tips.
3.) Benefits
LASIK surgery doesn't require bandages or stitches. In fact, few people experience pain after the procedure. And most patients do not need to wear prescription eyeglasses or contacts any longer. However, if unexpected vision changes occur, the eye doctor can make adjustments.
4.) Risks and side effects
As with any surgery, there are some risks with LASIK procedures. Before scheduling LASIK surgery, carefully review patient evaluations of the surgeon considered.
Some patients have discomfort for one or two days after surgery. Here are some other common side effects that usually ease over time:
a) Dry or scratchy eyes – Some LASIK patients notice a decrease in tear production for about six months as the eyes heal. Using eye drops can help ease the discomfort.
b) Problems driving at night – For several weeks after LASIK surgery, people should avoid driving after dark until their eyes heal.
c) Glare, halos, double vision, light sensitivity – These are temporary vision problems that usually improve in a few weeks.
d) Bruising around the eye – Depending on skin sensitivity, some patients may notice some bruising around the eyes. However, it should disappear within a few days.
e) Under or overcorrection – If too little tissue or too much tissue is removed during the LASIK procedure, the eye doctor may prescribe eyeglasses to correct vision issues or schedule another surgery to repair the tissue.
It's important to know all the risks and side effects before having LASIK surgery. Some people who've had the procedure have experienced permanent vision problems. But the good news is there is at least a 96% success rate. The key is finding a highly qualified, experienced doctor with a high satisfaction rate among patients.
5.) Vision insurance
LASIK is an elective procedure, so most people pay for the procedure out of pocket. But check your vision and medical benefits, as some plans cover part of the cost. If you don't have vision insurance, learn more about Ameritas vision insurance coverage today.
Want the latest & greatest from our health blog
straight to your inbox?
Subscribe today for a periodic email with our latest posts.