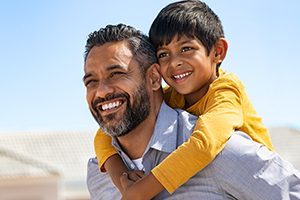 Many people think they don't need dental insurance. If they are in good health and don't have dental pain, they plan to pay for an annual exam and cleaning out-of-pocket. But dental health problems can occur when you least expect them. So, if you're wondering, "Should I get individual dental insurance or pay out-of-pocket?" review these tips.
1. Provides protection
Most people want to keep their teeth healthy throughout life. After all, your smile is the first impression you give to others.
There are two simple ways to maintain a healthy mouth: 1) daily brushing and flossing and 2) scheduling regular dental checkups and professional cleanings.
People without dental insurance pay for dental checkups and professional cleanings out-of-pocket. When it's time to schedule their appointment, they often don't have the budget resources to cover the expenses. So, they may end up delaying the exam or charging it on their credit card.
However, with an individual dental insurance plan, preventive care is covered. With most plans, you can get professional cleanings and checkups once or twice a year. It's really the only way to keep your teeth and gums healthy as you age.
2. No delays
If you pay for dental costs out-of-pocket, you'll probably have to budget for the cost. That could mean a delay in getting timely treatment and oral care.
With individual dental insurance, you have coverage when you need it. You can immediately use the plan for preventive care and basic procedures. There may be a waiting period for major expenses, such as crowns, bridges or root canals. Most plans also include access to dental network providers for added savings.
3. Affordable plans
The cost of individual dental insurance is a relatively low monthly fee. It provides good value in terms of cost savings. You'll have the security of knowing that your plan will help pay for fillings, crowns and root canals. And by getting your regular preventive dental cleanings and checkups, you may be able to avoid these costly procedures, or at least catch them early. Some plans even provide child orthodontia benefits for braces.
Without an individual plan, you may have to dip into savings or use a credit card to pay for dental costs.
If you have an Ameritas individual dental plan, you can find out the cost of dental procedures in advance. Use our out-of-network dental cost estimator to help you understand projected costs. Read this blog to learn more about the cost of dental procedures.
Choose from dental and vision insurance plans with provider network savings and day-one benefits on most plans.
Not sure how much dental coverage you need? Find out the average cost of a dental procedure in your area with our dental cost estimator.
Want the latest & greatest from our health blog
straight to your inbox?
Subscribe today for a periodic email with our latest posts.