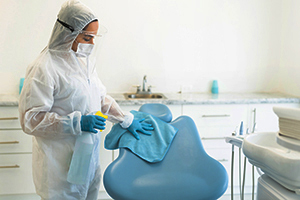 Have you put off going to the dentist because of the pandemic? Many people know they need to see the dentist, but they are worried about their health and safety. The American Association of Endodontists recently released results of a survey showing that during the pandemic many people have experienced changes to their daily dental hygiene and not for the better. If you are wondering, "Should I go to the dentist during COVID-19?," here are four things to know.
1. Essential for health
People need to see the dentist at least once a year to keep their teeth and gums healthy. Research shows that if you do not take care of your teeth and gums, you could be at higher risk for developing serious medical problems. For example, putting off taking care of a tooth with decay can lead to gum disease. The bacteria in the gum infection can get into the blood stream and cause many other health conditions. These include cardiovascular disease, stroke, diabetes, kidney problems and respiratory issues. It can even cause problems during pregnancy.Taking care of your oral health is essential so, yes, you should go to the dentist during COVID-19. Dental offices are following stringent protocols to keep patients safe. There's more about safety precautions below.
2. Dental emergencies
During COVID-19, many people put off seeing the dentist until they experienced tooth or gum pain. Oral health problems left untreated can become a dental emergency requiring immediate attention. During the pandemic, dentists have noticed an increase in dental emergencies. Many people are working remotely or quarantining at home. To lift their spirits, they are eating comfort foods. Many of these foods contain sugars and carbohydrates that can combine with harmful oral bacteria to attack tooth enamel and cause decay.
You should keep your teeth and gums healthy by brushing twice and flossing once daily to remove food particles and bacteria. Practicing good oral hygiene can prevent serious oral problems that could require emergency dental care.
Learn more about how the healthiness of your mouth could be an indicator of your overall wellness.
3. Safety precautions
Across the country, dental offices are following safety guidelines outlined by their state health departments. In addition, they are practicing disinfecting and cleaning procedures as directed by the American Dental Association. Before scheduling a dental appointment, you should contact your dentist's office, and also find out about the COVID-19 statistics in your state and county.During appointments, dental professionals wear protective gear from head to toe, such as caps, masks, face shields, gloves, gowns and shoe covers. They clean dental chairs and equipment, and disinfect all tools after each patient visit.
You will need to wear a mask as well when entering the building. Waiting rooms are set up for social distancing. Or, the dentist may ask you to call from your car when you arrive. Before the appointment, office staff will screen you for COVID-19 symptoms and take your temperature to ensure they are meeting pandemic health guidelines.
Yes, it is possible to go to the dentist during COVID-19. Contact your dentist to find out how the office is keeping patients and dental team members safe.
4. Teledentistry chats
During teledentistry appointments, you can video chat directly with your dentist about oral health concerns. This means you can see your dentist during COVID-19 without an in-person appointment. Then if an office visit is necessary, you can discuss the safety and timing of your appointment. If you're having oral discomfort and are concerned about going to see the dentist, contact your dentist's office to set up a teledentistry appointment. You will need a smartphone or computer with internet access. The office staff will provide a secure link for the video chat and explain how to connect with a dental team member.
Are you looking for a different dentist? Maybe you have moved, or because of COVID-19 you prefer to visit a different dental office. Here are some helpful tips to find the right dentist.
Need help with business planning products?
From comprehensive business planning to employee benefits, we can help create a financial strategy that's best for your business.
Want the latest & greatest from our health blog
straight to your inbox?
Subscribe today for a periodic email with our latest posts.