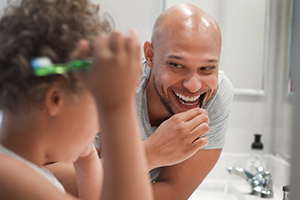 You probably have heard about dental insurance offered through medical insurance plans. It may sound like a good option. However, a combined medical and dental plan may not provide the dental coverage employees want. Consider why stand-alone dental insurance is best for employees.
Combined plans
Some medical insurance plans that include dental benefits provide coverage for children only. Other combined plans offer insurance for the whole family. However, the benefits provided with a combined plan may not provide the type of coverage employees expect. Here are five things to know:
1. Deductible
Employees enrolled in a combined plan could have to meet a deductible before the plans cover dental costs. Often the deductible is at least $500.
2. Annual preventive care
This benefit for dental exams and professional cleanings may be paid for children only, leaving adults to pay out-of-pocket for their dental care.
3. Procedures
Fillings, crowns and other services may not be covered until the insurance plan's deductible is satisfied. This means you will be responsible for the cost of dental procedures incurred until that point.
4. Limitations
Some plans feature a limited number of participating dentists, so employees may need to switch to a different dentist.
5. Orthodontia
Many combined plans do not cover orthodontia for kids, such as braces to straighten their teeth.
Stand-alone dental
This insurance option is a dental plan purchased separately from medical insurance, referred to as a stand-alone dental plan. It features more coverage and choices than what is available in a combined medical and dental plan. Here is why:
1. Coverage
Complete family coverage includes adults and children, with the option to add child and/or adult orthodontia. Most stand-alone dental plans cover preventive services (exam and cleaning) at 100%. They also provide coverage for more serious procedures that a medical plan may not cover.
2. No waiting
Members with stand-alone dental benefits may not have a waiting period, especially for preventive services. This means they can receive help with dental costs immediately. Please note that some plans do have a waiting period for more expensive procedures.
3. Network
Some dental carriers offer an extensive list of in-network dentists available to individuals and families across the country. These dentists agree to accept a set payment for covered procedures. For example, Ameritas Dental Network providers agree to charge members 25% to 50% less than their regular rates. It is easy to find an in-network dental provider with an Ameritas dental plan. Members simply visit Ameritas.com, "Find a Provider, Dental."
4. Choices
Insurance coverage options may be tailored to fit an employer's specific needs. Some employers opt to sponsor dental benefit plans for employees. They can either contribute to the cost or get a voluntary plan where participation is optional, and employees pay the cost. Or employers may want to offer employees access to coverage through an individual dental plan. With individual plans, employees sign up online and pay for the plan they select, working directly with the insurance carrier.
5. Price
Premiums are priced accurately, so employers and employees avoid shocking increases at the annual renewal time. Predictable pricing makes it easier for employers and employees alike to plan and balance their budgets.
Pediatric dental coverage
Under the Affordable Care Act, pediatric dental coverage is considered an essential benefit for kids age 18 and younger that health insurance carriers must offer.
Medical insurance companies may tell parents or caregivers that they must purchase pediatric dental coverage as part of their medical plan. However, in many states, stand-alone dental insurance (providing complete family coverage) may be purchased separately from medical plans.
Parents purchasing pediatric dental coverage will need a separate dental insurance plan to cover their own oral health needs, including those of dependents age 19 and older.
Educate employees
Employers should help employees understand their dental plan choices. Encourage them to carefully evaluate available benefit options to ensure they will receive the coverage they need and expect.
Even though employees may brush and floss their teeth daily, they still need dental insurance for regular exams and professional cleanings. Review eight tips to help workers find the right dental insurance.
Need help with business planning products?
From comprehensive business planning to employee benefits, we can help create a financial strategy that's best for your business.
Want the latest & greatest from our health blog
straight to your inbox?
Subscribe today for a periodic email with our latest posts.