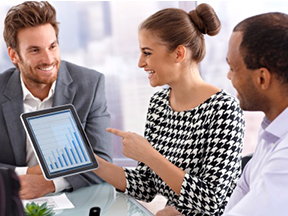 Overseeing employee recruitment and retention programs and coordinating benefits are challenging tasks for HR professionals. Fortunately, helpful information is available to lighten the load, such as videos and whitepapers provided by Ameritas.
Engaging employees –
Employers lose $11 billion each year due to employee turnover, reports Bloomberg BNA. And a study of American workers by Dale Carnegie Training discovered only 29 percent of employees are fully engaged at work. This means 70 percent of employees are not engaged, which impacts job performance and satisfaction.
Learn how to enhance engagement by focusing on employee wellbeing.
Growing and managing employees –
Finding and keeping the right employees is a challenge that HR professionals face every day. They rely on employees' experience, knowledge and dependability to keep customers happy and the workplace running smoothly. So it's important to provide encouragement and feedback to help employees do their job well.
View this interview with Bruce Tulgan, internationally recognized author and speaker, for advice and insights on growing and managing employees.
Coaching and leading millennials –
Often millennial workers (those born between 1982 and 2004) are labeled as high maintenance. They want to make immediate contributions at work and not wait for their turn to have a voice in business decisions. Enhance your business by capitalizing on the enthusiasm and solutions offered by employees of all generations.
Review this interview with Bruce Tulgan to learn tips on coaching and leading employees.
Simplifying benefits decisions –
Employees value their health benefits, but plan designs and coverage levels can significantly affect job satisfaction and influence performance. Learn about five ways to
offer benefits employees want.
Communicating benefits –
Employees want to have choices when selecting benefits, but they also expect help in understanding their coverage options. Studies show that employees are more engaged with their work when benefits are well communicated. A report by Benz Communications and Virgin Pulse indicates that employees who are satisfied with their benefits are more likely to be satisfied with their jobs.
Learn three ways to improve benefits communication.
Need help with business planning products?
From comprehensive business planning to employee benefits, we can help create a financial strategy that's best for your business.
Choose from dental and vision insurance plans with provider network savings and day-one benefits on most plans.
Not sure how much dental coverage you need? Find out the average cost of a dental procedure in your area with our dental cost estimator.
Want the latest & greatest from our health blog
straight to your inbox?
Subscribe today for a periodic email with our latest posts.