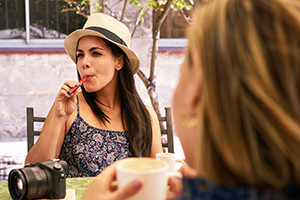 In 2006, e-cigarettes were first introduced in the United States. Since then, many people have wondered how vaping could affect oral health, and the lungs. In this article, we're going to focus on oral health. Research shows that using e-cigarettes can damage teeth and gums. Here are six things to know about how vaping affects dental health.
Dry mouth
Vaping products can contain chemicals, such as propylene glycol, that can dry out mouth tissues. Dental professionals say that dry mouth can cause mouth sores, bad breath and tooth decay.
Increased mouth bacteria
Vaping affects dental health because it increases the number of bacteria in the mouth. Researchers found that people who vape have more bacteria in between their teeth. Bacteria usually is where mouth trouble starts. Here's how to help fight tooth decay and gum disease.
Irritated gums
Researchers found that vaping products can irritate the gums, causing inflammation, tenderness, swelling and redness. Gum inflammation can lead to an increased risk of developing periodontal disease and gingivitis.
Kills oral cells
Inflammation also can damage cell DNA and cause them to die off early. So that means people who vape have a higher risk for tooth and bone loss, decay, periodontal disease, dry mouth and bad breath. In fact, any type of tobacco or vaping hurts a person's dental health.
A Canadian study discovered that vaping damage is cumulative. Researchers determined that over three days, mouth cells died at an increasing rate:
18% the first day
40% the second day
53% the third day
Grinding and discoloration
Vaping also affects dental health by staining and discoloring teeth. Some people who vape also have problems with teeth grinding, known as bruxism.
To maintain good dental health, many people think they only need to brush and floss their teeth each day. But in addition to these good habits, dental checkups and cleanings are essential.
Need help with business planning products?
From comprehensive business planning to employee benefits, we can help create a financial strategy that's best for your business.
Want the latest & greatest from our health blog
straight to your inbox?
Subscribe today for a periodic email with our latest posts.