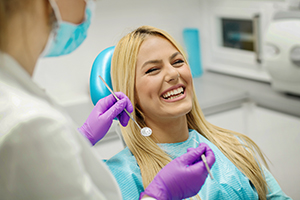 Dental insurance is one of the top benefits valued by employees across the country. Workers and their dependents use dental benefits to keep their teeth and gums healthy.
When dental plan members visit the dentist, the office typically files a claim with the insurance carrier, noting the dental procedures performed and associated costs. Once the claim is processed, members will receive an explanation of benefits (EOB) statement from the carrier. This is not a bill, but an explanation of how plan benefits were applied toward the dental procedures performed.
Benefits statements can be confusing, and plan members wonder, "What is the explanation of dental benefits"? Here's a guide to understanding the dental benefits statement that Ameritas plan members receive.
Ameritas contact information –
At the top of the statement, members will find the company's address, claims phone number and hours calls are answered.
Date of service –
The statement shows the dates of procedures provided by the dental office.
Processing and pay codes –
There is an American Dental Association copyrighted Current Dental Terminology code for each dental service or procedure performed. This is how dental insurance carriers know where to apply benefits and process claims.
Service description –
This column shows a list of the services provided by the dental office.
Benefits submitted, type and charges –
Most dental plans cover three categories of procedures:
Preventive/Type 1 (cleanings and X-rays)
Basic/Type 2 (fillings)
Major/Type 3 (crowns and root canals)
The dental benefits statement shows the charge for each procedure.
Covered amount –
This column indicates the amount the dental plan covered for each dental procedure.
Remark code –
If there is a question or comment about the coverage of a dental procedure, look for the remark code and an explanation in the statement.
Benefit summary –
This overview provides:
Summary of the claim, including submitted charges minus the amount the plan covers
Plan deductible (patient's responsibility)
Revised claim amount
Coinsurance percentage (what the plan covers toward Preventive, Basic and Major procedures, such as 80%, 90% or 100%)
Benefits amount the insurance plan will cover
Value of Dental Insurance
Seeing the dentist regularly can help dental plan members maintain good oral health and control dental costs. Members are encouraged to schedule preventive exams at least once a year. Plans typically cover all or most of the cost of these exams, which includes a professional cleaning and checkup.
During the exam, the dentist will check for signs of oral problems. Some medical symptoms also can be identified, such as diabetes, high blood pressure and some cancers. Catching oral health issues early can reduce the need for costly dental or medical treatments.
In addition to preventive dental exams, people are encouraged to floss each day and brush their teeth twice daily, after breakfast and at bedtime. Adopting these oral health habits now helps employees stay healthier and control dental costs.
Many employees have access to employer-sponsored dental plans. However, workers who don't qualify for this benefit can purchase individual dental insurance online. Learn why having a dental plan is essential for overall good health.
Dental Costs
Most people want to know the cost of dental procedures before they schedule an appointment. Review this blog to learn more about dental procedures, costs and types of dental plans. Plus, try our online out-of-pocket Dental Cost Estimator tool.
Want the latest & greatest from our health blog
straight to your inbox?
Subscribe today for a periodic email with our latest posts.