Ameritas marks Memorial Day with veterans memorial dedication ceremony
May 26, 2023
|

3 min read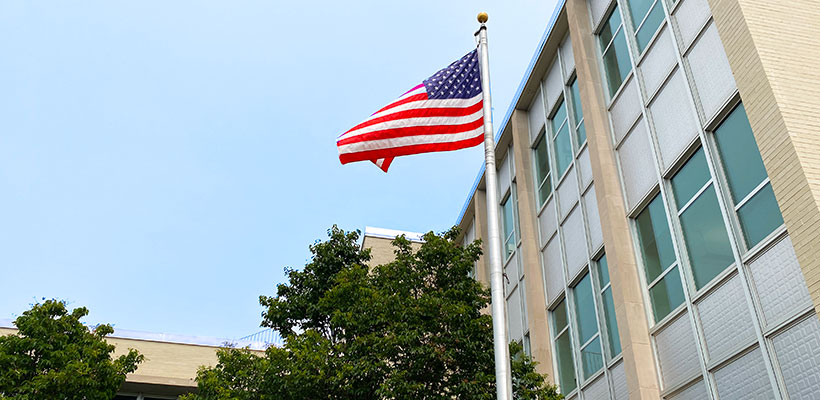 There are many ways to remember and honor those who sacrificed so much for freedom. Some visit cemeteries and place flowers or flags on the graves of loved ones. Others wear a red poppy in remembrance. And some visit memorials and monuments.
Ameritas is helping mark this Memorial Day by participating in a dedication ceremony for the Fairfield Township's Veterans Memorial, 30 minutes from Ameritas' Cincinnati office. The Ameritas Foundation contributed to the fundraising campaign in 2022.
"The campaign to raise money for the memorial was heartwarming and it matched Ameritas' mission of fulfilling lives because it can serve as a place for families to remember loved ones or for the public to honor heroes," said Liz Ring Carlson, vice president of corporate communications and community relations at Ameritas.
The Memorial
The memorial includes a circle of granite monuments that honors the U.S. Navy, Marine Corps, Army, Air Force and Coast Guard. At the center is a flagpole displaying the American flag. The base of the flagpole includes the names of veterans killed in action and other Purple Heart recipients. The memorial also features a POW/MIA dedication, a Gold Star Families dedication and donor recognition walls. On the edge of the memorial, benches will provide images and scenes from U.S. wars and conflicts from the American Revolutionary War to the Global War on Terror.
The Fairfield Township's Veterans Memorial serves as an entrance to the recreational area of Heroes Park. It will remind all who enter of the courage displayed by those who defended freedom, some giving the ultimate sacrifice.
Remembering the past and looking to the future
Ameritas' Jeff Martinson, director of IT, platform services, is a former petty officer second class for the U.S. Navy and says Memorial Day is a solemn reminder of the sacrifices made by fellow service members who gave their lives in defense of our nation.
"For me personally, it's a day to reflect on the unity and dedication that I experienced during my service in the United States Navy," Martinson said. "Memorial Day symbolizes remembrance of the past, appreciation for the present and hope for the future."
A ribbon cutting and dedication ceremony will occur on Saturday, June 3 at 1:30 p.m. at 6116 Morris Rd. in Fairfield Township, Ohio.
For more information, visit Fairfield Township Veterans Memorial.
XXX
About Ameritas
Ameritas is a marketing name for Ameritas Mutual Holding Company and its affiliated subsidiary companies, including Ameritas Life Insurance Corp. and Ameritas Life Insurance Corp. of New York. Founded in 1887, Ameritas offers a wide range of insurance and financial products and services to individuals, families and businesses. These products and services include life insurance; annuities; individual disability income insurance; group dental, vision and hearing care insurance; retirement plans; investments; asset management; and public finance. Securities offered through affiliate Ameritas Investment Company LLC., member FINRA/SIPC and investment advisory services offered through the business name of Ameritas Advisory Services.