Ameritas Responds to Coronavirus (COVID-19)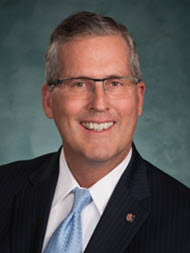 A Message from CEO Bill Lester
We are all now dealing with unprecedented levels of uncertainty and turmoil. With each new development we wonder what it means for us and for our families, communities, customers and businesses.
I can assure you that everyone at Ameritas is hard at work, guiding our organization through these challenges.
The insurance, employee benefits and financial services Ameritas provides help people feel safe and secure. Our commitment to you is steadfast and unchanging, despite the coronavirus and its global spread. We will make the best decisions we can with current information.
We're taking steps to make sure our associates are safe while they continue to serve you. In each line of business, we continue advising our customers, processing business, providing service and paying claims. Ameritas is ready as always to honor our commitments.
We put the greatest emphasis on financial stability so we can weather storms like this, as we have for more than a century. Even in times of crisis, you can still rely on us to be here for you.
Ameritas remains focused on fulfilling life.
Bill Lester
President and Chief Executive Officer