Ameritas Responds to Coronavirus (COVID-19)
Ameritas is monitoring the latest coronavirus updates from the World Health Organization and Centers for Disease Control. To help stop the spread of this virus, several offices are closed and most Ameritas associates are working remotely. Ameritas has suspended all business travel, has cancelled or postponed events and has increased facility cleaning.
Robust business continuity plans have been implemented to minimize disruptions for customers, vendors, and insurance, benefits and financial professionals.
Ameritas remains strong and stable through the financial impact of COVID-19.  Read Financial Strength, Stability and Fulfilling Lives to learn more from our Executive Vice President, Chief Financial Officer, and Treasurer Sue Wilkinson.
Customer Concerns and Questions
We know many of you are concerned about the status of your claims, coverage and accounts. Be assured Ameritas is open for business and ready to help. Your well-being is our top priority.
We're working with customers on an individual basis to extend payment dates, adjust fees and answer questions. We hope this helps you focus on caring for yourself and those close to you. See links below for FAQs, contacts, and business hours.
Safeguarding your financial well-being is important in times like this. Read our online security and fraud prevention tips to learn how to protect your account information.
 Dental and Vision customers
We know many people will be unable to make premium payments during this crisis because of reduced hours, layoffs and furloughs, or temporary closures. Therefore,  we are extending our premium grace period to 60 days while continuing coverage and claims payment. Ameritas will adhere to any state mandated premium grace periods as a temporary exception to our policy during this time.
We will work with you on an individual basis to help meet your needs. Please read our FAQ below for details about coverage, claims, and much more.
If you have further questions about your coverage with Ameritas, please contact your Ameritas representative. We're here to help you.
FAQs:
 Retirement Plans customers
Surviving Market Volatility – A guide to learn more about surviving market volatility during coronavirus (COVID-19).
FAQs:
Call our teams for assistance.
Life, Disability Income and Annuity customers
FAQs:
A Message from CEO Bill Lester
We are all now dealing with unprecedented levels of uncertainty and turmoil. With each new development we wonder what it means for us and for our families, communities, customers and businesses.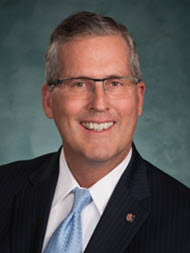 I can assure you that everyone at Ameritas is hard at work, guiding our organization through these challenges.
The insurance, employee benefits and financial services Ameritas provides help people feel safe and secure. Our commitment to you is steadfast and unchanging, despite the coronavirus and its global spread. We will make the best decisions we can with current information.
We're taking steps to make sure our associates are safe while they continue to serve you. In each line of business, we continue advising our customers, processing business, providing service and paying claims. Ameritas is ready as always to honor our commitments.
We put the greatest emphasis on financial stability so we can weather storms like this, as we have for more than a century. Even in times of crisis, you can still rely on us to be here for you.
Ameritas remains focused on fulfilling life.
Bill Lester
President and Chief Executive Officer