Join the "You're not alone" campaign to help senior citizens

In normal circumstances, retirement home residents long for visits from friends and family. Now, it may be a long time before they see loved ones again. On top of that, seniors are hearing they're particularly at risk if they contract coronavirus. That's a lot to deal with. Let's let them know they're not alone.
Join the Ameritas You're not alone campaign. It's simple:
Fill out the form below. Need inspiration? Think of an older friend or relative you know. Or use your powers of empathy and imagination.
Write something reassuring or funny — anything you think would lift the spirits of the recipient.
Submit your note.
Do it now, while you're thinking about it.
We'll print your note and all other notes we receive. When it's safe to do so, we'll ship them along with activity books (think word games and sudoku) and hand sanitizer to senior centers near our offices.
If you've ever received a note of encouragement during a tough time, you know how powerful it can be. And this generation holds the written word in particularly high regard. Anything you say will speak volumes.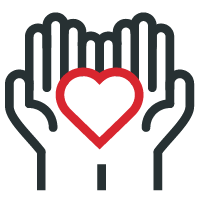 This is the time to tell everyone you know 'You're not alone'
Share them on your social network to tell everyone you know they're not alone, either — because you're thinking of them.
When you do, ask them to join the You're not alone campaign by submitting a message for a senior citizen. Thank you!
Teamwork will make this campaign work
"This is a team effort," said Liz Ring Carlson, second vice president of corporate communications and community relations at Ameritas. "The campaign will complement the incredible, selfless work being done by staff members at these senior centers."
Officials from Tabitha (a nonprofit organization offering comprehensive senior care services in Nebraska) and the United Way of Greater Cincinnati confirmed some seniors are facing loneliness, isolation and fear, and that caregivers are feeling overwhelmed. They think the campaign will make a difference if enough people participate. Both organizations plan to promote the campaign on their social networks.
Nationwide bookseller Barnes & Noble is on the team, too. Ameritas recruited them to deliver activity books (think word games and sudoku) directly to the senior centers. Another deal with Lincoln promotional products vendor Bob Stephens & Associates will provide hand sanitizer to each center.
Now it's your turn! Enter your message in the form, share our posts with your social network, and tell everyone you know "You're not alone."
Ameritas responds to community needs
The You're not alone campaign is part of Ameritas Cares, our community partnership program. The program includes our Community Involvement Council (CIC), which comprises associates who lead community efforts in five Ameritas cities. As the coronavirus pandemic became more and more serious, CIC members identified the biggest needs in:
Lincoln and Wayne in Nebraska

Cincinnati, Ohio

San Antonio, Texas

Minnetonka, Minnesota
CIC members in each location expressed concern about their senior populations. Working from their homes in Lincoln, members of our community team started looking for solutions. They found a new partner that cares as much as we do.
Barnes & Noble will provide nearly 3,000 activity books (think word puzzles and sudoku) for seniors. Additionally, the bookstore offered free shipping to more than a dozen senior centers in these five communities. They will also include free shipping of educational materials for elementary school students from low-income families in Lincoln, Wayne and Cincinnati"
It was great working with Barnes & Noble, and we're glad to have them on the team," said Shannon Raitt, senior coordinator of vendor relations and sponsorships at Ameritas.
We're all in this together
One of the prevailing messages we're seeing in response to the pandemic is, "We're all in this together." If you're at all familiar with Ameritas, you know this is something we've been saying for a long time.
The phrase stems from our history of community investment and volunteerism. It also speaks to who we are as a mutual-based organization. We aren't obligated to Wall Street analysts and stockholders. That frees us to focus on what's best for individuals, families and businesses.
Right now, our top priority is the health, safety and well-being of our customers, associates and insurance, benefits and financial professionals. See Ameritas Responds to Coronavirus (COVID-19) for more information.