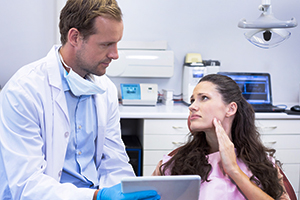 If you put off scheduling a dental visit, you're not alone. Thousands of adults choose to skip their annual dental checkups. Review four reasons why people don't go to the dentist.
1. Safety
Due to COVID-19, many people put off going to the dentist. They stress about picking up the virus during their visit. Although dental offices are safe, they still worry.
In every state, dental offices are following safety guidelines outlined by their local health departments. In addition, they are practicing disinfecting and cleaning procedures as directed by the American Dental Association. During appointments, dental professionals wear protective gear. They clean dental chairs and equipment and disinfect all tools after each patient visit.
2. Fear
Many people are anxious and afraid to see the dentist. They don't like the sounds and smells in the dental office. They worry about pain from having their teeth cleaned. They stress about problems the dentist may find during the oral exam. And they don't want a lecture about their poor dental health.
Some people have had bad experiences with dentists. However, there are many excellent dental professionals who understand your fears. Review these tips to find a dentist that fits your needs.
Talk with the dentist about expectations and concerns. There are several things the dentist can do to provide a soothing visit.
3. Cost
People may put off going to the dentist due to the cost. Most employees have access to dental benefits through their employer. However, many other people don't have dental insurance. This group includes people who are self-employed, work for a small business, serve as caregivers or are retired.
People without dental insurance benefits can get individual dental coverage. They can buy the plans online through a reputable carrier. These plans usually offer same-day service for preventive and basic procedures, such as professional cleaning and fillings. There may be a waiting period for major procedures, such as crowns, bridges, root canals and other expensive procedures.
Ultimately, the best way to save money on dental costs is for people to take care of their teeth. This includes brushing twice a day, for two minutes each time. Also, floss between teeth daily and use a mouth rinse without alcohol.
4. Time
Many people say they don't have time during the day for a dental visit. But if they see a dentist close to their work or one by their home, it's easier to schedule an appointment. Many employers allow employees to schedule dental appointments on their way to work or on their way home. Some dentists also offer Saturday morning appointments.
Need help with business planning products?
From comprehensive business planning to employee benefits, we can help create a financial strategy that's best for your business.
Want the latest & greatest from our health blog
straight to your inbox?
Subscribe today for a periodic email with our latest posts.