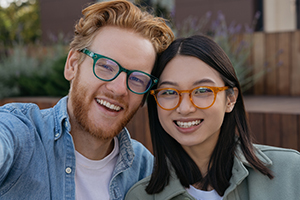 Eye care (vision) coverage used to be a nice-to-have benefit. But today's workers view vision coverage as an essential part of their health care benefits. And they expect to find an eye care plan in their benefits package. Research shows that many employees choose to stay on the job or accept a position with an employer because of the benefits offered. Consider six reasons to offer eye care benefits to employees.
1. Protects health
Employees who have eye care benefits tend to use them. Research shows that during an annual eye exam, vision professionals often can detect signs of chronic medical conditions. These health problems include hypertension, high blood pressure and diabetes.
Catching medical conditions early can protect employees' health and vision. For example, about 37.3 million Americans have diabetes. Another 96 million adults have pre-diabetes (but most don't know it yet). While looking deep into the eye, the doctor can see signs of diabetes, hopefully finding the disease before it adversely impacts employees' vision.
2. Provides diverse, personalized options
One type of vision coverage will not provide the right coverage for all employees. So employers should work with their benefits broker and insurance carriers to design eye care benefits that employees can customize to their needs. For example, in addition to preventive eye exams, members can choose plans with coverage options they value most. Some options are a higher materials allowance for special eyewear, including lens coatings, blue light protection or contact lenses.
3. Lowers health care costs
Medical conditions found in an early stage usually require less expensive treatments. That means employees will spend less out-of-pocket for procedure copayments and they'll make fewer claims for medical insurance coverage. Vision benefits help keep employees healthier.
4. Improves productivity
During the eye exam, the vision team will ask questions to understand employees' visual needs. They'll discuss the use of digital devices, such as computers, tablets and smartphones. Extended use of these electronics can cause eyestrain and dry eyes, leading to headaches, vision problems and neck pain. Employees' performance and productivity may be affected, especially if they need time off to cope with headaches and pain.
5. Supports employee recruitment and retention
Employees want to work for an organization that provides the benefits they need. But they want more than the typical plans. They expect benefits they can use. Research shows that 87% of employees are likelier to stay with a company that offers high-quality vision benefits.
Workers use their eyesight thousands of times daily and want vision benefits to keep their eyes healthy. Many employers previously offered eye care coverage as a voluntary benefit. But as businesses began to understand the value of providing eye care benefits, many now include it in their employee benefits packages. It's a benefit workers want and that positively impacts their lives.
6. Enhances employer reputation
Eye care benefits are a good investment for employers and the cost is relatively low, especially when compared to the high cost of medical insurance. When designing eye care benefits, offer the most coverage possible. Research shows that for every $1 invested in comprehensive vision benefits for employees, companies receive a return of $7. Employees who receive benefits they can use tend to stick with their employer for many years. In fact, workers will be more satisfied with their jobs and recruit others to join your business, helping you develop a reputation as an employer of choice.
Need help with business planning products?
From comprehensive business planning to employee benefits, we can help create a financial strategy that's best for your business.
Want the latest & greatest from our health blog
straight to your inbox?
Subscribe today for a periodic email with our latest posts.