6 Strategies to Get the Best Employees to Stay Longer
January 26, 2022
|

5 min read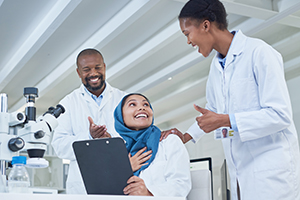 Most people like to look around at other jobs, checking to see if other employers provide better benefits and more meaningful work. In recent months, millions of Americans quit their jobs to pursue other opportunities. This left the employees who are still on the job, and filling in for those who quit, feeling dissatisfied and restless.
Losing talented employees is expensive. Gallup reports that the cost of replacing one worker can range from one-half to two times their annual salary. However, employers can minimize worker turnover by providing programs and benefits that meet employees' needs. Consider six strategies to get the best employees to stay longer.
1. View employees as partners
Employees today want to contribute to their employers' success. They want to know their work matters. Viewing workers as partners helps them get invested in the company. Not only will employee productivity increase, but workers also will be happier, satisfied and more likely to stay on the job.
2. Understand workers' career goals
One reason employees consider leaving their job is because they don't feel challenged. They feel stuck in their position, with minimal options to advance in their careers. Due to the pandemic, many workers have missed out on training and learning experiences to improve their knowledge and skills. LinkedIn reports that 94% of employees would stay longer if their employer invested in their career development. Schedule regular meetings with employees to keep in touch with their interests and career goals. Look for opportunities to help workers enhance their skills and follow up with tips to improve their work success.
3. Provide learning experiences
Business experts encourage employers to provide upskilling experiences. In recent months, many employees, especially those who work remotely, have missed out on training experiences. They may participate in online education programs, but it's not the same as sitting with coworkers and learning new skills together. Educate workers about new products and work details, either in person or online. Then assign work that allows them to apply their new knowledge and skills.
4. Ask for their feedback
Regularly survey employees to understand the issues on their minds including their benefits needs. Conduct pulse surveys to know the issues and concerns on employees' minds. Ask for their feedback on current benefits and employee programs to understand what they value. In the process, you may discover programs and benefits that need updating or some that could be dropped. Share an overview of the feedback received, so employees know that you're listening and care about providing the benefits and programs they want.
5. Make work flexible and meaningful
Research shows that 90% of employees want flexibility on when and where they work. They want real work-life balance options to juggle their time to complete work projects, participate in team meetings and manage caregiver responsibilities. Employees also want meaningful work, so they know they're making a difference. Providing work-life balance and flexibility shows workers that their employer respects them and appreciates their contributions to business success.
6. Create a supportive culture
Provide team-building experiences to encourage employees to support each other. Set up activities that help workers get to know each other and learn about their experiences, contributions and achievements. Share employee achievements and customer feedback. Research shows that employees who receive praise and recognition increase their productivity. They are more loyal and satisfied, which enhances customer experiences. A caring, supportive team environment goes a long way in helping employees achieve their goals both at work and in their personal lives.
Need help with business planning products?
From comprehensive business planning to employee benefits, we can help create a financial strategy that's best for your business.
Want the latest & greatest from our health blog
straight to your inbox?
Subscribe today for a periodic email with our latest posts.