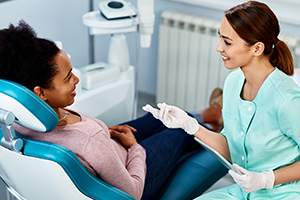 Concerns about cost are often the reason people put off going to the dentist. Research shows that most people have less than $1,000 saved for unexpected expenses. So they use their credit card to cover bills that exceed their monthly budgets, such as health and dental procedures.
Ameritas dental insurance members can estimate dental costs before seeing the dentist. And they can save money by visiting network providers. Review these options for using Ameritas dental cost estimator tools.
In-network dental cost estimator
Members can get cost estimates for network providers in two ways:
1. Secure member account
Ameritas dental insurance plan members can access their secure online account, or create a new one, at ameritas.com, Sign In.
On the Dental page, members have instant access to the in-network dental cost estimator. The system is programmed to use the correct dental network connected to the member's plan. It also is set up to compare costs for up to three in-network dental providers.
2. Find a Health Provider provider search on ameritas.com
Members can search for dental providers and compare costs at ameritas.com by selecting Find a Health Provider, then Find a Network Dental Provider Online. Members will need to know which dental network is part of their plan.
Members can choose up to three dentists to compare costs by clicking the push-pin icon in the corner of each provider box and selecting the Dental Cost Estimator link. The link directs members to sign in to their secure member account as follows:
On the Member ID Lookup page, member types in their existing secure member account User ID and clicks on Find Member ID. Then they'll be directed to their secure member account to sign in.
Members who do not have a secure account can click on Create New Member ID.
Out-of-network dental cost estimator
Anyone can see a cost range for out-of-network general dentists based on the usual and customary charges in their ZIP Code. Search by Category or Procedure Code. The footnotes on the site show the range of percentiles that are being estimated. Check out the Ameritas out-of-network Dental Cost Estimator tool today.
In most cases, people will discover just how much money they can save by choosing an in-network provider. Ameritas Dental Network providers have agreed to charge 25-50% less than their regular rates. To obtain exact costs up front, members can contact their dental provider directly or ask the provider to submit a pretreatment estimate.
Note: Ameritas updates the in-network and out-of-network dental cost estimator tools annually. This way members get current information so they can budget and plan their dental care accordingly.
Did you know that dental insurance plans cover procedures differently? Learn eight tips for evaluating coverage options. And, if you are wondering about the differences between in-network and out-of-network benefits, read this blog to learn more.
Want the latest & greatest from our health blog
straight to your inbox?
Subscribe today for a periodic email with our latest posts.