5 Factors to Consider When Designing Benefits Packages for Employees
October 27, 2021
|

5 min read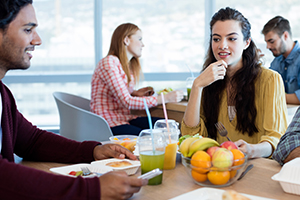 Competition for the best employees is increasing. Businesses are searching for creative solutions to keep great workers and find new talented team members. Research shows that benefits are a top reason why employees choose to stay with their employer.
Recently, Employee Benefit News magazine worked with Ameritas to survey human resource professionals to find out what benefits they offer and the tools used to plan and enhance benefits options. The results provide information for employers on the five factors to consider when designing benefits packages.
1. Offer competitive, relevant benefits
Due to the pandemic, employees value the security of their benefits to handle various needs. In 2022, employers plan to continue to look for ways to offer the benefits that employees want. Companies want to provide the best coverage choices possible while maintaining their budgets. Popular benefit options include health, dental and vision insurance, caregiver assistance, retirement savings, student loan payment assistance, tuition reimbursement and emergency savings benefits.
2. Keep work fun with perks
Employers also are providing more perks to improve employees' lives. Popular options include fun days, creative offices spaces, better technology and work tools for remote team members, and employee purchasing programs. On top of this, many employers plan to continue to support the flexible work schedules and paid time off that employees value.
3. Review benefits usage trends
The survey also found that only one in five HR professionals reports using claims analysis or carrier recommendations based on how employees use current benefits. Reviewing these reports can show which benefits features employees use and those they are overlooking.
Employers can work with their broker and carrier to adjust current benefits packages and add other complementary benefits choices. For example, a review of employees' use of vision benefits may show that workers meet their vision plan frame or contacts allowance each year. Increasing the allowance amount could increase employees' appreciation of their vision benefits, impacting retention and recruitment of talented team members.
4. Provide personalized benefits
Employees want to personalize benefits to fit their needs. Many companies offer benefits plans that feature various coverage options at different cost levels. They also include a broad mix of voluntary plans that meet employee needs in many areas. This strategy gives employees many opportunities to design and personalize their benefits package, increasing their satisfaction and engagement.
5. Tap into resources from brokers and carriers
HR survey respondents indicated strong interest in wanting better data to help them compare benefits options. They also would like more information about benefits plans offered by competitors. Benefits brokers and insurance carriers can run reports for employers to show plan design trends within specific industries. Other data reports are available, including benefits claims experience, PPO network utilization and plan utilization summaries.
Brokers and insurance carriers also have many resources to assist employers with benefits communication. They can help tailor plan details to help HR better reach different employee demographic groups to assist them in selecting the right plans.
Learn more insights from the survey on how HR can use benefits to keep pace with the evolving workplace by reviewing this whitepaper.
Need help with business planning products?
From comprehensive business planning to employee benefits, we can help create a financial strategy that's best for your business.
Want the latest & greatest from our health blog
straight to your inbox?
Subscribe today for a periodic email with our latest posts.