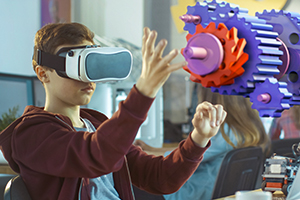 Most American adults spend more than 11 hours on digital devices every day,
research
shows. People use digital devices for work or school assignments, but they also spend hours on gaming activities each day. Gaming companies design exciting games that people love to play. Now, health care professionals are getting involved in
gamification
. Learn how dentists and eye doctors use games to engage with customers.
For dental care
Many dentists use fun and educational games to engage current patients and get new referrals. As patients play the games, they earn rewards, points and badges for more games or dental products. Users learn more about the dental practice and tips for better
oral care
in the process. Game results give dentists information about their patient's understanding of their oral health and dental procedures. Experts predict that at least 20% of dentists will participate in gamification strategies in the next few years. By using games, dentists can educate patients about their office and dental team members. Plus, they can make it fun to learn about maintaining a healthy smile.
Many employers today offer dental insurance benefits. People with dental insurance are more likely to schedule yearly dental appointments for a professional cleaning, oral exam and bitewing X-rays. Employees who don't qualify for company benefits can purchase individual dental coverage online from a reputable dental carrier.
For eye care
Today, people are spending around 11 hours daily on
digital devices
, impacting the health of their eyes. Frequently, users complain about eye strain, dry eye and vision changes. Eye doctors are using
gamification
to combat vision problems and help heal patients' eyes. The games help improve users' horizontal and vertical eye movements by strengthening their eye muscles. Doctors can review game results to evaluate patients' progress, eye fatigue and additional needs. One smartphone vision app features games to test the visual acuity of people with chronic eye diseases, such as:
binocular vision disorders
lazy eye or squint eye
While patients enjoy the vision games, they may not realize how the activities can monitor or treat their vision conditions. But eye doctors are noticing remarkable improvements in their patients' vision.
Regular eye exams are essential to ensuring healthy eyes. Vision insurance helps people maintain good vision since they tend to use their coverage. Some people have access to employer-sponsored vision benefits. Or, they can get individual vision insurance.
Need help with business planning products?
From comprehensive business planning to employee benefits, we can help create a financial strategy that's best for your business.
Want the latest & greatest from our health blog
straight to your inbox?
Subscribe today for a periodic email with our latest posts.