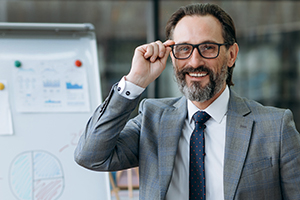 Most full-time workers have access to employer-sponsored group dental and vision benefits. But many other employees don't qualify for health benefits through an employer. These individuals may work part-time, be semi-retired or work temporarily as self-employed "gig" contractors. They may purchase a medical plan to help cover unexpected or catastrophic medical conditions.
Many also would like dental and vision coverage, but think the cost is out of reach. They know that protecting their dental and vision health is vital to maintaining overall health, and they want to protect their family members as well. Learn more about individual dental and vision insurance for part-time and gig workers.
Self-employed, contract gig workers
During The Great Resignation, American workers left jobs to pursue new employment opportunities. Today, about 57 million Americans are gig workers. They are self-employed, contracting for work with businesses and private individuals.
Gig or self-employed people want to be their own boss. They invest time and money to make their company successful. However, they may not have the stability and security of employer-sponsored benefits, including dental and vision coverage. Instead, they plan to pay out-of-pocket for unexpected dental or vision costs. But these expenses can add up. And sadly, dental pain and vision problems just get worse if left untreated.
Self-employed and gig contractors are talented and hard workers. And employers are discovering that to keep these talented workers, they need to offer access to individual insurance plans. Contract workers value individual insurance because the plans are portable. This gives them instant access to benefits that they can use just about anywhere they work. In addition, as their business grows, they may need to add an employee or two. And those workers will want access to benefits. That's when business owners quickly find out that insurance is essential for today's workers.
Semi-retired
For many older employees, retiring at age 65 has become a thing of the past. They're in good health and want to continue to work part-time. However, due to inflation and economic conditions, many employees who are eligible to retire plan to work at least part-time so they have a more predictable income.
Semi-retired employees also want to receive health benefits. Senior workers are used to the robust health benefits they received as full-time employees. They know that as they age, they'll probably need dental and vision services. This may include dental crowns and bridges or cataract surgery and prescription eyeglasses. But regular Medicare does not cover these expenses.
However, employers can offer semi-retired workers access to individual dental and vision insurance plans available online through a reputable carrier. Employees will need a plan that covers preventive dental exams and offers discounts on other necessary procedures. Plus, they'll want vision benefits for exams, contacts and eyeglasses.
No coverage
There also are many people who don't have dental or vision insurance. Often, it's because they work for a small business that can only afford to offer basic medical insurance. But that benefit probably doesn't cover preventive dental or vision exams. That's a problem.
Millennial employees are discovering that they need dental and vision coverage to take care of their growing families. Younger workers, known as Generation Z, have found they need insurance because their parents' plans no longer cover them.
Employers can help employees in both groups get access to dental and vision coverage. That's what individual insurance is all about. The individual signs up and pays for it, working directly with the insurance company. Individual plans also have options that include dependent family members. It's the best way for these employees to take care of their dental and vision health, and spend less on costly procedures.
Learn more about the benefits of individual insurance for employers and employees. Also, review these individual dental and vision insurance plans to get an idea of what's out there.
Choose from dental and vision insurance plans with provider network savings and day-one benefits on most plans.
Not sure how much dental coverage you need? Find out the average cost of a dental procedure in your area with our dental cost estimator.
Want the latest & greatest from our health blog
straight to your inbox?
Subscribe today for a periodic email with our latest posts.