Ameritas Life Lessons Scholarship
Ameritas is proud to again sponsor a $5,000 scholarship available through the Life Happens annual Life Lessons Scholarship Program. The program is designed for college students and college-bound high school seniors to share their experience about the importance of having life insurance coverage for their family.
Qualified applicants will submit either a 500-word essay or a 3-minute video to Life Happens discussing how the death of a parent or guardian financially affected their life.
Meet our 2020 Scholarship Recipient!
The recipient of our 2020 scholarship is Estevan Hernandez from Grandview, WA.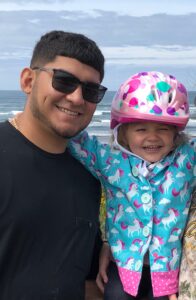 I often find myself rubbing the scars on my knee when I'm nervous. I don't know why, but something about them connects me to a time when both my parents were alive, and I find comfort. When I was 3, my family was hit by a drunk driver. It killed my mom instantly, put my brother in a coma, shattered my leg, and pushed my dad into a deep depression. That day set the path for the rest of my life.
Not having life insurance put more pressure on my dad to work longer hours and move more to provide for us. We lived in poverty and I moved schools 13 times before graduating. My dad was a migrant field worker with a middle school education. I went everywhere with him; he was my best friend. He died when I was 10 in a single car accident. He didn't have life insurance either; I doubt he even knew what it was. Losing my dad had a greater immediate impact on me…read more
The recipient of our 2019 scholarship was Chassidy Walworth from St. Cloud, MN. Her video is shown here.
Help us choose the next Life Lessons Scholarship recipient!
As a member of Ameritas Mutual Holding Company, you can participate in the review of a narrowed field of applications and vote for a deserving recipient. If you haven't done so already, provide your name and email address in the form below to participant in the voting.
Yes, I would like to vote for an Ameritas Life Lessons Scholarship recipient and receive other news from Ameritas.
For more information about the Life Lessons Scholarship, visit Life Happens. Life Happens is not an affiliate of Ameritas Life Insurance Corp.