Doing business with a company that has high AM Best and Standard & Poor's ratings
September 17, 2021
|

6 min read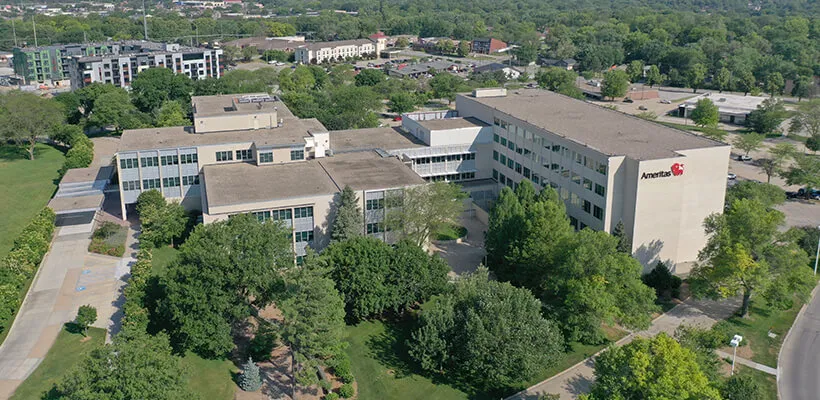 Backed by years of solid financial stability and growth, Ameritas consistently earns high ratings from organizations like Standard & Poor's and AM Best, showcasing our financial strength and our commitment to our customers.
Financial strength is one of our main assets and lies at the core of our relationships with customers. It represents our resilience, tenacity and durability when faced with hardship. It shows that we are prepared to work through problems and deliver for our customers even when the world throws unpredictable challenges at us. It's what makes us who we are.
Continue reading to learn more about the details of Ameritas' financial strength and performance.
By the numbers
Ameritas has experienced strong financial growth in recent years, due mostly to sound leadership and sustained client relationships that continue to deliver. Here's an overview of our record over the past couple of years:
The value of total assets under management spiked from $37.4 billion in 2019 to $41.5 billion in 2020.
The value of GAAP assets increased from $27.9 billion in 2019 to $30.3 billion in 2020.
The value of GAAP members' equity grew from $3.6 billion in 2019 to $4.1 billion in 2020.
The value of GAAP realized equity increased from $3.2 billion in 2019 to $3.4 billion in 2020.
GAAP revenues stayed steady at $2.5 billion between 2019 and 2020, but grew from $2.4 billion in 2018.
GAAP pretax operating income jumped from $131.0 million in 2018 to $134.4 million in 2020.
Statutory premiums grew from $3.4 billion in 2019 to $3.5 billion in 2020.
The value of life insurance in force increased from $99.0 billion in 2019 to $105.8 billion.
Our ratings: The details
The strength of Ameritas' financial portfolio is reflected in the ratings it consistently receives from different independent financial authorities. They reflect our commitment to long-term relationships with our customers even when times are hard.
Standard & Poor's ratings
In 2020, Ameritas earned an A+ (Strong) for insurer financial strength from Standard & Poor's rating, the fifth-highest in its ranking system. Standard & Poor's considers Ameritas' financial risk profile to be "Excellent," which it expects to persist into the future as Ameritas continues to support its holdings with diversified earnings sources and limited dividend activity.
Standard & Poor's expects the solidity of Ameritas' financial risk profile to continue as well. "We believe Ameritas has more than sufficient resources to support its existing operations and sensible growth," Standard & Poor's wrote in its report. "We believe its excellent capital position and operating prospects give the group ample latitude to fund its strategic initiatives."
Ameritas is also credited with a strong business risk profile, owed in large part to its ability to expertly manage its product portfolio by addressing risks associated with its products, highlighting Ameritas' agility and ability to navigate change. Standard & Poor's predicts stable earnings and improved profitability as Ameritas' moves into the future.
AM Best ratings
Ameritas also received an A (Excellent) rating from AM Best for insurer financial strength, the third highest in AM Best's ranking system. This score was based on a "very strong" balance sheet, "adequate" operating performance, "favorable" business profile and "appropriate" enterprise risk management.
Ameritas' balance sheet strength is reinforced by a high-quality investment portfolio and a favorable liquidity profile. Based on this balance sheet performance, AM Best ratings projects a stable outlook for Ameritas, a good sign of things to come.
Ameritas is on your side
In unpredictable times, you need to have a trusted partner on your side to help you manage unforeseen challenges with firmness and resilience. Our long history of delivering for our customers even during times of uncertainty showcase our financial strength and highlight our commitment to you.
Ameritas is in the business of fulfilling life. Bringing you valuable information to help you plan well and enjoy life is part of what we do.
Ratings disclosure
The ratings* assigned to Ameritas Life Insurance Corp. and Ameritas Life Insurance Corp. of New York provide an independent opinion of each insurer's financial strength and ability to meet ongoing insurance policy and contract obligations. Standard & Poor's and AM Best are recognized among the top authorities in analyzing insurance companies. Ratings are current as of February 2021 and subject to change.
*Ameritas Mutual Holding Company's ratings by Standard & Poor's include Ameritas Life Insurance Corp. and Ameritas Life Insurance Corp. of New York.
The Best's Rating Report(s) reproduced on this site appear under license from AM Best and do not constitute, either expressly or implied, an endorsement of (Licensee)'s products or services. AM Best is not responsible for transcription errors made in presenting Best's Rating Reports. Best's Rating Reports are copyright © AM Best and may not be reproduced or distributed without the express written permission of AM Best. Visitors to this web site are authorized to print a single copy of the Best's Rating Report(s) displayed here for their own personal use. Any other printing, copying or distribution is strictly prohibited.
Best's Ratings are under continuous review and subject to change and/or affirmation. To confirm the current rating, please visit the AM Best web site, www.ambest.com.
XXX
About Ameritas
Ameritas is a marketing name for Ameritas Mutual Holding Company and its affiliated subsidiary companies, including Ameritas Life Insurance Corp. and Ameritas Life Insurance Corp. of New York. Founded in 1887, Ameritas offers a wide range of insurance and financial products and services to individuals, families and businesses. These products and services include life insurance; annuities; individual disability income insurance; group dental, vision and hearing care insurance; retirement plans; investments; asset management; and public finance. Securities offered through affiliate Ameritas Investment Company LLC., member FINRA/SIPC and investment advisory services offered through the business name of Ameritas Advisory Services.