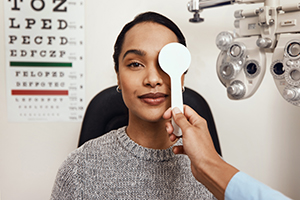 It's safe to say that most people worry about their finances, especially health care costs. No one wants to pay for unnecessary tests or procedures. But if they put off getting health care benefits and going to the doctor, unforeseen health problems can cost more in the long run. It's less expensive to avoid problems with preventive care options. No one should have to wait until they're in pain or really sick to seek care from a health professional. This includes medical, dental and vision needs for a better quality of life.
Employers can help employees stay healthy by encouraging them to take advantage of yearly preventive exams and services. Workers who keep on top of their health needs with preventive care are able to maintain and often improve their health and overall well-being. This translates to better attendance and higher work productivity. Review five reasons why preventive health screenings are essential.
1. Detects medical conditions early
Many health problems are preventable. One way to catch potential concerns early is with preventive screenings. Doctors can recommend screenings that best fit employees' family histories and individual health needs.
Preventive care screenings make it easier for health professionals to detect subtle signs of emerging medical conditions. In fact, it's the key to finding health problems early, which helps lower treatment costs and keeps employees healthier and happier. It's one big reason why preventive care matters.
Access to regular screenings impacts a person's ability to maintain their overall well-being. And employees with dependents appreciate having the benefits they need to take care of themselves and their families.
2. Lowers health risks
Preventive screenings put employees in charge of their health. When participating in recommended screening tests, doctors may find signs of unknown medical concerns. This holds true for medical, dental and vision exams.
Consider two examples: a cholesterol check evaluates good (HDL) and bad (LDL) cholesterol and triglyceride levels. If the LDL levels are too high, doctors will provide treatment options to the employees to help lower their bad cholesterol and improve HDL levels to improve their health.
Diabetes also is a disease affecting more and more people. Research shows that 37.3 million Americans, or 10%, have diabetes. About 20% don't know they have it. However, during routine health visits, doctors can order bloodwork to check for diabetes. Then, if necessary, those doctors can help employees reduce the impact of the disease.
In these examples, the choices for care could include eating more nutritious meals, participating in structured exercise for 30 minutes each day, or taking medications designed to lower bad cholesterol.
Did you know diabetes can be detected during a regular eye exam? Sometimes blurry vision is one of the first symptoms.
3. Extends lives
The Centers for Disease Control and Prevention report that preventive care screenings can save lives. Over 100,000 lives could be saved each year if people took advantage of screenings, such as tests identifying chronic diseases and colorectal cancer.
About 70% of people die each year from chronic disease and illness. A stunning 90% of people diagnosed with colorectal cancer could live at least five more years if caught before it spreads.
4. Saves money
Most employees worry about finances, especially with inflation impacting their budgets. As a result, they may try to limit health care expenses. That's why preventive screenings are essential. Getting yearly health screenings not only helps employees and their family members maintain good health, but it also can save them money. Most insurance plans promote preventive care and cover preventive screenings at no or low cost.
Employees also can benefit from dental and vision screenings. Some people have plans through their employer. But, if not, they can purchase individual dental or vision insurance. Most individual plans offer same-day coverage, especially for preventive screenings, such as professional teeth cleanings and eye exams. Learn how Ameritas' individual dental and vision plans can help employees save money while caring for their teeth and eyes.
5. Boosts productivity
Preventive screenings also can help enhance employee productivity. Each year, workers miss thousands of hours of work due to illness. Often, they need time off to deal with health problems, such as toothaches, migraines or high blood pressure. These health issues easily could be identified during a preventive health care screening and treated.
Most preventive screenings and exams require minimal time to complete. It's usually easy for employees to schedule these types of tests around work hours. By planning appointments and proactively taking care of their health, employees will spend less time at the doctor's office. That means employers will have employees who feel better and are more focused at work.
Want the latest & greatest from our health blog
straight to your inbox?
Subscribe today for a periodic email with our latest posts.