4 Tips for Employers When Selecting and Communicating Employee Benefits
November 2, 2020
|

4 min read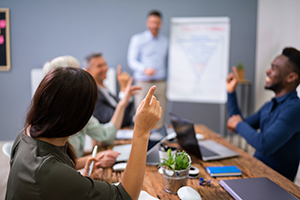 When shopping for a new mobile phone, most people mull over their options for several hours. But when selecting their benefits, they spend an average of only 18 minutes enrolling. Many workers say they don't understand their benefit options or how the plans will meet their needs. So throughout the year, employers need to communicate the value of the employee benefits they offer to help workers understand. Here are four tips for employers when selecting and communicating employee benefits.
Offer benefits that matter
COVID-19 continues to impact employees as remote work continues to be the norm. Many workers feel isolated from their work and other team members. Their benefit needs also have changed, especially since they no longer can take advantage of many on-site business perks. One way to enhance engagement and satisfaction is to offer health benefits and perks employees value.
Periodically ask employees for input on benefits, including what they like and don't like about current benefits. Find out what coverage they'd like to have and the best ways for communicating benefits information.
Ask your broker and insurance sales agent for a utilization report on your current employee benefits plans. This information will show which features and services employees select and use most.
Review benefit trends of coverage options offered by other employers. Currently, popular benefits are telehealth programs, mental health assistance and voluntary health coverage, such as dental, vision and hearing. Employees appreciate the security benefits provide to help them take care of their needs and those of their family members.
Follow a strategy
Before annual enrollment, develop a strategy for educating and communicating employee benefits, including a list of key messages. Several weeks before employees select new benefits, provide plan details. If changes are made in current benefit plans, explain why and how it will impact employees. Frequently, employers change benefits to make plans better for employees, but they forget to share these details. Without this information, workers may assume that the new coverage isn't as good as their previous plan and miss out on new plan selections.
List the dates for when the enrollment period opens and closes. Explain how employees can learn about coverage options. Make use of the company intranet, employee newsletter, emails and benefits websites for communicating. Share tips on how employees can select the benefits that provide the right coverage, such as knowing family medical, dental and vision needs.
Personalize communications
Explain how benefit choices will affect employees' lives. Create messages specific to each employee age group. Use a blend of communication options to reach employees. This could include packets, meetings, lunch sessions, newsletters, videos, charts, infographics, social media, and a list of frequently asked questions and answers. Make sure to define common insurance terms to help employees understand how it all works.
Provide monthly reminders
After the enrollment period, employees often forget benefit details. Each month, share information on a different benefit and explain the details. Tell employees about the value of preventive screenings and provide examples of how workers can use, or have used, their coverage. Encourage employees to use the benefit plans they selected.
Benefits do a lot more than provide insurance coverage. They can keep employees happier, healthier, more secure and satisfied.
Need help with business planning products?
From comprehensive business planning to employee benefits, we can help create a financial strategy that's best for your business.
Want the latest & greatest from our health blog
straight to your inbox?
Subscribe today for a periodic email with our latest posts.