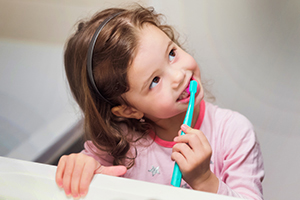 Dental health can affect how well children learn in school. Many children with dental problems struggle to learn. They may lack self-confidence and are reluctant to smile. Parents and caregivers can help children do well in school by teaching good dental habits. Review these tips for better dental health for children.
Early stages of decay
When children are born, their 20 baby teeth are already present in the mouth below the gums. The early stages of tooth decay often begin when children are young – when the first teeth erupt. Sugars in foods, juice and milk linger around the new teeth and lay a foundation for tooth decay.
Common problem
Tooth decay is a common infectious disease. It can affect dental health for children of all ages.
About 20% of children ages 5 to 11 have at least one tooth with decay.
Nearly 13% of older children ages 12 to 19 have untreated tooth decay.
Parents and caregivers can help protect children's smiles. Create a toothbrushing and flossing chart to remind them to take care of their teeth. Each time they successfully complete their weekly dental care tasks, celebrate.
Teach good habits
Most children don't know how to take care of their teeth on their own. They need to be educated on the subject. Plus, it doesn't take a lot of time. Practice good dental habits together. This will go a long way in caring for your children's smiles. Make it a fun time for kids to take care of their teeth. In the process, you'll help them develop good habits for daily tooth care. Here are six tips for healthy teeth:
1. Wipe baby teeth – As teeth poke out of the gums, wipe them daily with gauze to remove plaque.
2. See the dentist by age one – Parents or caregivers should schedule a child's first dental checkup by age one. The dentist will check for the correct development of their teeth and gums and look for early signs of decay.
3. Use fluoride toothpaste – As soon as the first tooth appears, start using fluoride toothpaste made for kids. For children age 3 and younger, brush with a dab of toothpaste (about the size of a grain of rice). For kids older than age 6, use a pea-size amount. Show them how to rinse and spit in the sink.
4. Brush daily – Kids' teeth should be brushed twice daily, for two minutes each time, after breakfast and at bedtime. Follow these toothbrushing tips to ensure success.
5. Floss between teeth – As soon as teeth get close enough to touch, gently floss between them once each day.
6. Schedule regular dental visits – Schedule a dental checkup one or two times a year, as directed by the dentist. These regular exams and professional cleanings are vital to a lifetime of healthy teeth and happy smiles.
In addition, help children focus on school by making sure they have good vision and hearing. Read these blogs to learn more:
Tips to Ensure Kids Have Good Vision Health for Success in School
Kids' Hearing Can Impact Their Academics and Activities
Need help with business planning products?
From comprehensive business planning to employee benefits, we can help create a financial strategy that's best for your business.
Want the latest & greatest from our health blog
straight to your inbox?
Subscribe today for a periodic email with our latest posts.