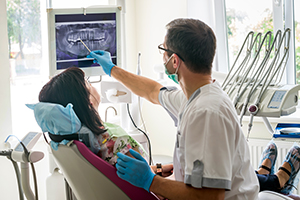 When reviewing dental benefits information, the terms "in-network" and "out-of-network" are commonly used. While they may sound confusing, it's important to understand these dental insurance terms and definitions. Knowing what they mean will help you avoid paying high out-of-pocket costs.
Sometimes people schedule an appointment with a health professional and may not realize that the professional is not listed as in-network with their insurance plan. If they're not, the insurance company may cover only a small percentage of the cost using the plan's lower out-of-network benefit. Most insurance plans contract with specific health care providers in each market, such as general practitioners, specialists, hospitals, labs, diagnostic facilities or pharmacies, to accept a contracted fee for each covered service.
Here are five things to know about dental insurance terms and definitions:
Before scheduling an appointment or a procedure, ask if the provider is in your insurance plan's network.
Ask your insurance company for a list of in-network providers.
In-network providers charge a contracted fee for covered services. But that does not mean your plan covers 100% of the cost.
If an in-network provider orders a procedure, do not assume the cost will be covered. Check with your insurance company before scheduling the procedure.
Check the plan description of covered services, as well as the deductible and coinsurance requirements. Most dental plans cover preventive care. Learn why it is so important.
Be aware of out-of-network costs
If you decide to visit a medical professional not listed in the network, you may pay more for services. Since out-of-network providers have not agreed to contracted fees with your insurance company, the costs may be higher. Your insurance plan may also require a larger deductible and coinsurance payment for out-of-network care.
Example of In-Network vs. Out-of-Network Charges
Here's a simple example of in- and out-of-network payments for a procedure:
| | | |
| --- | --- | --- |
| Example | In-Network | Out-of-Network |
| Charge $150 | Network discount: $50 | Network discount: $0 |
| Balance | $100 | $150 |
| Insurance coverage | 80% of balance: $80 | 50% of balance: $75 |
| Patient responsibility | $20 | $75 |
This example demonstrates how quickly health care costs can add up for services provided by out-of-network professionals. Learn more about the differences between in- and out-of-network health benefits.
To keep costs under control, ask providers if they are contracted with your insurance plan. If they are not in the network, ask your insurance company or benefits administrator how to obtain a list of current network providers. Now that you are familiar with these two dental insurance terms, review these tips on finding the right dentist.
Want the latest & greatest from our health blog
straight to your inbox?
Subscribe today for a periodic email with our latest posts.