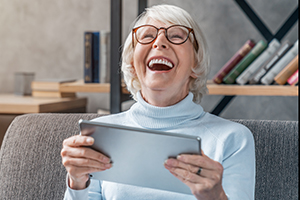 Whether you're about to retire or adjusting to life as a retiree, planning your budget and health care coverage is an important part of the transition. Most retirees use Medicare to help pay for hospital stays and other medical costs. But many are left wondering… Does Medicare cover dental and vision expenses? The answer is simple.
Medicare does not cover most dental, vision, or hearing expenses.
While it may be tempting to pay for dental, vision and hearing exams out of pocket, purchasing supplemental insurance will help you pay for procedures and materials you're likely to need. Dental, vision and hearing benefits help you manage costs, and that gives you peace of mind.
To help plan for future expenses, think about your current health needs and consider these common conditions that occur as we age.
Dental. Many older Americans take prescription and over-the-counter medications that can cause dry mouth, and that increases the risk of cavities. Also, people who have chronic diseases such as diabetes, arthritis and heart disease are more likely to develop gum (periodontal) disease. It's important to visit the dentist regularly to monitor these conditions and seek necessary treatment.
Vision. As we age, our eyes are more prone to diseases and conditions such as glaucoma, cataracts, dry eyes and retinal or corneal disease. Regular visits to the eye doctor are key to diagnosing and treating these conditions to maintain good eye health and vision.
Hearing. According to the National Health Interview Survey, 6.9 million people aged 60 and older use hearing aids. But 26% of people with hearing difficulty say they don't use hearing aids because they're too expensive. And those with hearing loss who don't use hearing aids are twice as likely to report symptoms of depression.
Overall health is key to your happiness and well-being. So it's important to have plans in place to pay for preventive care and those inevitable services that go beyond regular exams. Consider what Medicare does and does not help pay for.
Does Medicare cover dental?
Medicare does not cover standard services including dental exams, cleanings, more expensive procedures like fillings and extractions, or devices like dentures, plates or implants. Part A may cover dental services you get during a hospital stay, or emergency procedures. But outside of a hospital stay, you pay 100% for dental services.
Does Medicare cover eye exams?
Medicare does not cover eye exams, glasses or contacts. It may cover some diagnostic or preventive screenings in specific cases. And Part B may cover a pair of eyeglasses if you've had cataract surgery. But you pay 100% for standard eye exams and materials.
Does Medicare cover hearing aids?
Medicare does not cover hearing exams, hearing aids or appointments for hearing aid fittings. Part B covers diagnostic hearing and balance exams, but only if your doctor or other health care provider orders them to see if you need medical treatment. Otherwise, you pay 100%.
How to fill in the coverage gaps
Seniors may purchase additional insurance from private insurance companies to help pay for dental, vision and hearing services and materials Medicare does not cover. Options include:
Stand-alone dental, vision and hearing insurance plans. These are offered by private carriers and feature a wide variety of plan design options to fit your needs. They have their own provider networks, and there are no restrictions on networks or plan designs.
Medicare Advantage plans (Medicare Part C). These plans replace traditional Medicare and are government subsidized and restricted.
To decide what's right for you, compare the costs and benefit options. Ask your broker or financial advisor for help.
Here are some questions to ask yourself:
• What dental, vision and hearing services and materials might I need in the next year or two?
• What coverage do the plans available to me provide for those services and materials?
• Are my providers in the networks that are offered?
• Are there waiting periods for coverage?
People of retirement age will likely need dental, vision and hearing services that go beyond regular preventive exams. So compare costs and coverage for more expensive services and materials like crowns, dentures, progressive eyeglass lenses, eye surgeries, hearing aids and hearing aid maintenance.
Stand-alone dental, vision and hearing plans offer choice and flexibility
Stand-alone dental, vision and hearing insurance plans offered by private carriers are designed to provide a range of coverage options to fit a variety of needs, including comprehensive coverage. You can buy these plans through your broker or online any time – there's no enrollment period and you don't need to have a life event to qualify. And many individual plans have next-day coverage, so there are no waiting periods – you're covered right away. You can visit any provider you choose and still get coverage. But if you visit a network provider, you will most likely pay even less out of pocket.
Insurance carriers who specialize in dental and vision benefits have the expertise and data to design plans that offer 100% coverage on preventive services and richer coverage for more expensive procedures and materials seniors are likely to need.
Dental plans cover two exams and cleanings per year. Coverage for fillings, oral surgeries, bridges, dentures and crowns ranges from 50% to 80%. Some plans increase coverage and maximum benefit levels after one year, so your benefits get better the longer you stay on the plan.
Look for plans that include a hearing exam benefit with coverage for hearing aids so you can maintain your devices over time. Some carriers also offer prescription discount cards for added value.
Vision plans have low deductibles for exams and eyeglass materials — $10 to $25. Annual eye exams are fully covered. And when you visit a network doctor, some plans cover bifocal and trifocal lenses at 100%. Eyeglass frames, lenses and contact lenses are covered every 12 to 24 months. Coverage for vision correction surgeries varies by plan, so be sure to ask for details.
Medicare Advantage plans have limitations
Medicare Advantage plans are designed to cover everything Medicare covers while offering additional benefits, such as prescription drug coverage and possibly some dental, vision and hearing benefits. But plans vary widely by area and carrier – not all plans offer dental, vision and hearing coverage. Those that do offer dental, for example, may only offer preventive coverage and not help pay for more expensive procedures and materials like crowns and dentures. Plans may have a very limited choice of providers and service areas, and they may limit the number of services covered per year. While the premium cost might be low, the benefits are minimal.
If you do have a Medicare Advantage plan that provides some dental, vision and hearing coverage, you can still benefit from stand-alone dental, vision and hearing plans that offer more comprehensive coverage. And you don't have to worry about coordination of benefits – your stand-alone plan will always provide primary coverage.
Get the best value
Having dental, vision or hearing benefits as part of a medical plan may sound convenient, but in the end, you likely end up paying more out of pocket. Benefits do not increase over time. And if you decide to switch health coverage, you'll have to switch your ancillary coverage too.
When you purchase stand-alone dental, vision and hearing plans, you get the care you need at a price you can afford. Plus, you can opt to include coverage for your spouse too.
Look at Ameritas dental, vision and hearing plans online, and find one that fits your needs today.
Choose from dental and vision insurance plans with provider network savings and day-one benefits on most plans.
Not sure how much dental coverage you need? Find out the average cost of a dental procedure in your area with our dental cost estimator.
Want the latest & greatest from our health blog
straight to your inbox?
Subscribe today for a periodic email with our latest posts.