Improve Employee Retention Rate with Benefits that Boost Loyalty
July 19, 2023
|

4 min read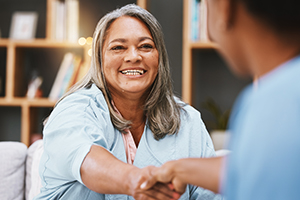 In today's ever-changing world, many employees are worried about the future. Since they spend most of their day at work, they value employers who provide meaningful work, a sense of security and well-being, and career development opportunities.
Finding and keeping excellent employees is a considerable investment for businesses. So losing talented team members is expensive. Employees say they are more likely to stay with a company that provides the benefits they value most. Consider these tips to improve your employee retention rate by offering benefits that boost loyalty.
Recognize differences in benefit needs
The workforce is changing. Today, employers have employees of different ages and lifestyle needs working together. Prospective employees want to work for businesses that offer benefits they can tailor to their needs. They expect employers to offer several types of benefits with different levels of coverage.
Fulfilling diverse benefit needs can lead to more satisfied, creative, productive and loyal employees interested in their employers' success. Happier employees tend to provide better customer service, which is essential for business growth. Research shows that 58% of customers will pay more to shop at a business that offers excellent customer experiences. It pays to keep your employees happy.
Understand the different needs
Employees assume employers will provide medical benefits. But they also expect dental insurance and vision coverage in their benefits packages. Employees may want orthodontia benefits for themselves and/or their child(ren). Plus, there are other benefits workers value, such as coverage toward LASIK vision correction and hearing exams. Every group of employees will want different options.
Understand what employees want and need through an annual employee benefits survey. Asking specific questions is the best way to determine what is on employees' minds. In addition, set up listening sessions or focus groups to learn what they want. Use pulse surveys to keep up with workers' changing benefit needs. Be sure to thank those who participated and follow up with the results.
Offer personalized benefits employees want
Employees want to work for an employer who is interested in their needs. They want to know that their employer cares about their well-being. With survey results in hand, discuss your workforce needs and issues with a broker and insurance sales representative you trust. Review the current use of benefits and coverage options. Identify those that employees and dependents use most and which ones they rarely use.
Work with your broker and insurance representative to identify a mix of benefits that supports the needs of your employees. Common needs include health, dental and vision coverage options for different budgets and family situations. Financial guidance and overall well-being perks are appreciated as well. Personalizing well-being benefits may take a little time and effort, but it is well worth it to boost employee engagement, satisfaction and loyalty.
Connect with regular communications
Employees usually want several benefits choices, but the options can be confusing. Head off frustrations by providing communications that anticipate employees' questions and address their concerns. Being proactive in communicating benefits information assures employees that you are invested in their well-being. Consider these tips:
Personalize – Present benefits information that appeals to employees with different family and personal needs.
Listen – Set up group meetings and online chats to connect employees with brokers or insurance reps who can answer questions and help them explore benefit choices.
Educate – Explain benefits information using the terms and communication style that resonates with each audience. The goal is to connect with employees, so they understand and use their benefits. Include links to benefits information so it's easily accessible.
Prioritize – Make benefits communicationa priority. Talk about benefits throughout the year. Share examples of benefit features and how they can help workers stay healthier. Consider using infographics and videos to increase engagement.
Sources and References:
Indeed
Forbes
Society for Human Resources Management
Care for Business
Want the latest & greatest from our health blog
straight to your inbox?
Subscribe today for a periodic email with our latest posts.