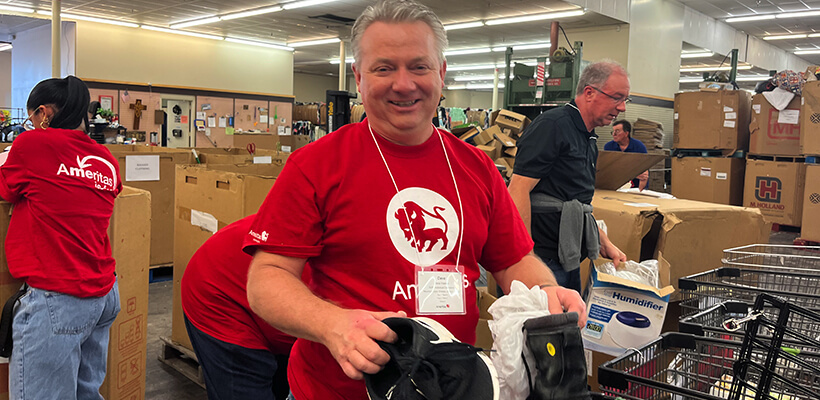 To begin a summer of giving, Ameritas leadership team members spent some time at Lincoln nonprofits, lending a hand in whatever needed done, from constructing raised garden boxes to yard work.
Nonprofits visited included the Center for People in Need, Community Action Partnership, Food bank of Lincoln, Fresh Start Home, Good Neighbor Community Center, Matt Talbot's Kitchen and Outreach and People's City Mission Help Center.
The Fresh Start Home
Brandon Mann, president, Ameritas Investment Company, LLC, and Ameritas Advisory Services, LCC, spent his afternoon at Fresh Start Home, an organization that helps women transform their lives by overcoming homelessness through housing programs and client-focused practices to overcome barriers to self-sufficiency. Mann thinks nonprofits like it can assist individuals during tough times.
"Life can be hard, people go through challenging situations and sometimes need a helping hand and to know that people care about them," said Mann. "These nonprofit organizations provide assistance when needed and improve our communities by giving others hope and getting them through difficult periods in their lives."
The importance of giving back
Other Ameritas associates volunteered at the Center for People for Need and built raised boxes that could be used to plant herbs and vegetables, creating a more sustainable food source for the community. The Center for People in Need's mission is to provide services and programs to low-income individuals that address basic needs and help them achieve economic independence.
"Volunteers make everything possible," said Macala Carter, executive director of the Center for People in Need. "We are fortunate to have regular volunteers who help our small staff assist visitors to the center seeking basic needs as well as the upskilling or re-skilling offered in our educational programs."
The afternoon was part of a summer filled with Ameritas volunteerism, including the 2023 United Way campaign, which lasts from the end of July through Aug. 11. The campaign will seek to raise money for the United Way of Lincoln and Lancaster County, an annual giving campaign that frequently produces thousands of dollars for local nonprofits and the United Way of Lincoln and Lancaster County.