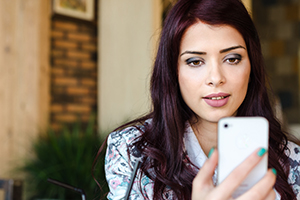 Do you need to see your dentist, but are reluctant to visit the office in person? You're not alone. Some people put off dealing with a dental issue because they are concerned about exposure to others in the office. Or, they simply can't get to the dentist. Ask your family dentist or specialist if a video chat is an option. It's a modern way to take care of business. Here's what you need to know.
What is teledentistry?
With teledentistry, you can video chat directly with dental team members about your dental concerns. You'll need to contact the dental office to set up a teledentistry appointment. Of course, you'll need a smart phone or computer with internet access. Then, the office will provide a secure link for the video chat and explain how to connect with a dental team member.
How does it work?
During the video chat, a dental team member will ask questions to understand your concerns. Then they will recommend treatment options. Teledentistry cannot replace in-person dental procedures. But here are three common reasons for a video chat:
1. Mouth sores – People frequently develop mouth or canker sores. Usually, the sores heal within a few days. But if the problem persists, or you develop sores on your tongue or gums, consult with your dentist. They may be able to assess and diagnose the problem by looking at a picture you provide. Or, they may be able to see well enough with a close up during the video chat.
2. Tooth or gum pain – Depending on the nature of the pain, the dentist may prescribe medication to provide relief. You'll probably need to schedule a follow-up video chat or in-person appointment to identify the root cause of the pain. Remember, it's vital for your dentist to address potential gum disease and tooth loss as soon as possible. And if you need a tooth pulled, of course a simple video chat won't do. You'll need an in-office visit.
3. Teeth straightening – Many people ask about the pros and cons of orthodontic treatments for teeth straightening. Your dentist may ask you to take pictures of the teeth that need straightening. Photos from several angles may be required. Then you'll need to share them with your dentist. After examining the photos, a dental team member can set up a video chat to discuss options. If the dentist recommends an at-home clear aligner kit, you'll need to submit pictures frequently during treatment. This helps the dentist monitor the straightening process.
When to use video chat?
Teledentistry via video chat does not replace an in-person visit. You should continue to visit your dentist regularly for preventive exams and cleanings in order to maintain good dental health. But if you simply can't get to the dentist, teledentistry with video chat could be an option. This way, your family dentist, hygienist or specialist will have the opportunity to identify dental problems before they get out of hand.
Check with your dentist to find out if they provide video chat services and what it costs. And before scheduling an appointment, contact your dental insurance carrier to see how teledentistry services are covered. Many dental insurance plans cover teledentistry calls, as long as the appointment isn't billed as a consultation.
Need help with business planning products?
From comprehensive business planning to employee benefits, we can help create a financial strategy that's best for your business.
Choose from dental and vision insurance plans with provider network savings and day-one benefits on most plans.
Not sure how much dental coverage you need? Find out the average cost of a dental procedure in your area with our dental cost estimator.
Want the latest & greatest from our health blog
straight to your inbox?
Subscribe today for a periodic email with our latest posts.