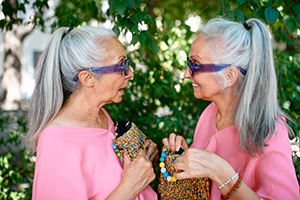 If you're considering retirement, you may worry about maintaining good health as you age. Although you can get medical coverage through Medicare and gap insurance, you may wonder about insurance coverage for dental and vision needs. After all, you've probably invested a lot of time and money in caring for your teeth and eyes, and you want to continue getting dental and vision exams each year. It's also about maintaining your quality of life. Consider five things retirees should know about dental and vision insurance.
1. Evaluate your dental and vision health
Before shopping for a dental and vision plan, review the health of your teeth and eyes. For example, for dental care, do you need one or two yearly exams for a professional cleaning and checkup? Do your teeth and gums hurt or bleed? Do you have teeth with crowns or root canals? The Centers for Disease Control and Prevention reports that about 68% of adults ages 65 and older have gum disease. Poor gum health and tooth decay increase people's risk of developing heart disease and pneumonia. However, daily flossing and toothbrushing, plus seeing the dentist once or twice a year for exams and cleanings can help keep your teeth and gums healthy.
What about your vision? Do you see the eye doctor regularly to have your vision checked? Has the eye doctor ever detected any signs of floaters in your vision or diseases like diabetes? Do you wear prescription eyewear? As you age, you may experience vision problems, such as cataracts, dry eyes and vision loss. By age 65, many people develop eye diseases, such as glaucoma or macular degeneration.
Dental and vision insurance provides retirees peace of mind. It helps cover costs for exams and services that maintain healthy teeth and eyes.
2. Review plan options
Original Medicare plans do not cover routine dental and vision exams. However, some Medicare Advantage plans may cover some procedures and services. So, when reviewing dental and vision options, carefully review the services these plans include to ensure the procedures you value are covered. Also, look at individual dental and vision plans, such as those offered by Ameritas. Here are some features to consider:
• Monthly premium – This is the amount you'll pay each month for coverage. Some Medicare Advantage plans provide limited dental and vision coverage at no additional cost.
• Preventive care – Health professionals recommend retirees get annual preventive exams. You'll need at least one professional dental cleaning and checkup annually to maintain healthy teeth. Eye doctors recommend that retirees get a comprehensive eye exam once a year. Most dental and vision plans cover these preventive exams at 100%.
• Plan benefits – Every dental and vision plan covers services and procedures differently. Depending on the plan, basic or major dental services for fillings, crowns and root canals, and vision services for prescription eyewear or contacts, are covered at different levels. There may be a deductible or coinsurance amount associated with some services (usually between $0 and $50 but could be more). Make sure you understand the benefits you have for each dental or vision service to maximize your benefits.
• Annual benefit amount – Most dental and vision plans have an annual benefit maximum for covered services and procedures. Knowing this amount will help you manage procedure costs and avoid unexpected bills. For example, by safely timing necessary dental work, you can make the most of each year's annual maximum benefit (usually between $500 and $2,500 or more).
3. Ask about waiting periods
Check if the dental or vision plan has a waiting period before covering any services or procedures. This period can be up to 12 months and usually applies to more expensive services. However, some individual dental and vision plans, such as through Ameritas, offer day-one benefits for many services (especially preventive care). That means members can use their coverage as soon as they've paid the premium.
4. In- and out-of-network providers
Some dental and vision plans offer in-network benefits through providers. These doctors and specialists agree to accept a set payment from the insurance company for each covered service on your plan. Please note, If you use an out-of-network dentist or eye doctor, the insurance plan usually covers less of the cost.
5. Insurance carrier reputation
If you're purchasing individual dental and vision insurance online, check the reputation of the carrier providing the coverage. Find out whether current customers are satisfied with the company. For instance, how many people stayed with the carrier after the first year? How long has the carrier been in business and how fast are claims paid? Is it an established, financially strong company? Often this information can be found on the insurance carrier's website or on social media.
Choose from dental and vision insurance plans with provider network savings and day-one benefits on most plans.
Not sure how much dental coverage you need? Find out the average cost of a dental procedure in your area with our dental cost estimator.
Want the latest & greatest from our health blog
straight to your inbox?
Subscribe today for a periodic email with our latest posts.